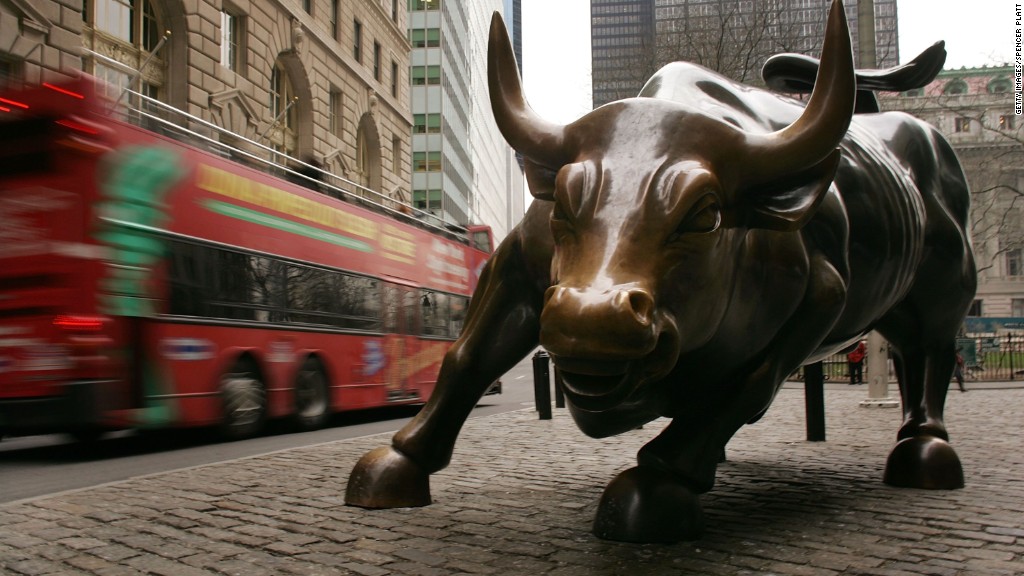 Maybe the financial world isn't coming to an end after all.
After the worst start to a year and falling into a correction, the stock market finally showed signs of life.
The Dow jumped 228 points on Thursday, its best day since early December. The S&P 500 advanced 1.7%, while the Nasdaq rose 2%.
The gains were fueled by financial markets in China calming down, a slight gain in beaten-down crude oil prices and hopes the Federal Reserve may delay its plans to raise interest rates further. Market analysts said a rebound was bound to happen eventually as pessimism about stocks got too extreme.
"You had a very oversold market. It was a pretty sharp, unrelenting move lower. It's hard to know if this will stick, but it's a breath of fresh air after a terrible start to the year," said Art Hogan, chief market strategist at Wunderlich Securities.
Despite Thursday's solid gains, stocks still remain deeply in the red in 2016. Both the Dow and S&P 500 are down nearly 6%, while the Nasdaq is off 8%. Previously-hot stocks like Netflix (NFLX) and Amazon (AMZN) are sharply lower in 2016.
Related: Everyone hates stocks again. Time to buy?
Wall Street cheered as oil prices finally stopped crashing, with crude jumping more than 2% to settle at $31.20 a barrel. The oil crash to 12-year lows has spooked investors as a red flag about the health of the global economy and a big negative for profits of energy companies.
"That's a positive. We've been very correlated to energy prices. As they have fallen out of bed, so have the markets," said Hogan.
The S&P 500's energy sector, easily the worst performer of the past year, soared 4% on Thursday. Oil stocks like Transocean (RIG) and ConocoPhillips (COP) soared 6% apiece.
Related: Worried about stocks? Watch these numbers
It also helps that China's benchmark Shanghai Composite jumped 2% overnight, stabilizing a bit from its recent plunge.
Wall Street is also buzzing about comments from top officials at the Federal Reserve that suggest the central bank is taking notice of the global financial turbulence.
Over the past two days Boston Fed president Eric Rosengren and St. Louis Fed President James Bullard have indicated future interest rate hikes could be delayed by a slowing economy and the decline in oil prices.