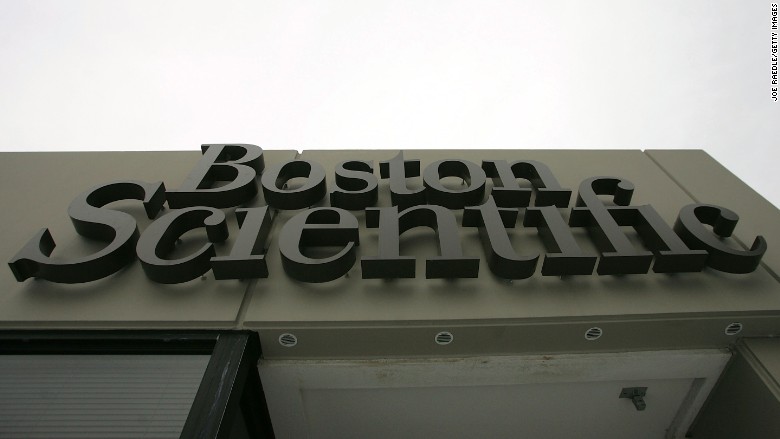 A class action lawsuit against Boston Scientific made public Thursday alleges the company used counterfeit material from China to manufacture toxic vaginal mesh implants.
The suit filed in a West Virginia federal court is yet another in the mounting litigation that's been brought against makers of vaginal mesh implants.
Patients have said the devices caused miscarriages and other severe medical issues. A few cases have been settled, and more than 70,000 civil lawsuits have been consolidated into an ongoing case playing out in federal court.
The West Virginia suit goes beyond the claims made in those cases. It says Boston Scientific -- one manufacturer of mesh implants -- "concocted a scheme" to defraud regulators and received counterfeit materials from China.
If the allegations are substantiated, Boston Scientific (BSX) could face criminal charges and even heftier payouts than it would in other civil cases.
At issue is an ingredient called resin. The Food and Drug Administration approved a name-brand resin for use in Boston Scientific's vaginal mesh, though the supplier has since recommended that it not be used in permanent implantation devices.
The suit filed Tuesday alleges that when a name-brand resin supplier stopped selling it to Boston Scientific, the company "smuggle[d] 15 tons of the material from China without verifying or fully testing the contents," according to a statement from Mostyn Law.
Amber Mostyn, the lead attorney in the case, said the primary goal is to get an injunction to halt the sale of Boston Scientific's vaginal mesh implants. The suit is also seeking class action status, which could include thousands of women, the firm said.
According to the complaint, Boston Scientific received shipments of the counterfeit resin from China between June 11, 2011 and the fall of 2012. Mostyn said the company could still be using it to manufacture implants.
Boston Scientific said in a statement Thursday that "patient safety is of the utmost importance, and we dedicate significant resources to deliver safe, high-quality products. We don't believe the case has merit and intend to vigorously defend these claims."
The company declined further comment.
According to public filings, Boston Scientific had over 30,000 pending cases relating to vaginal mesh as of November 2, 2015. The company has denied wrongdoing.
Vaginal mesh implants can be used to treat certain minor conditions such as poor bladder control.