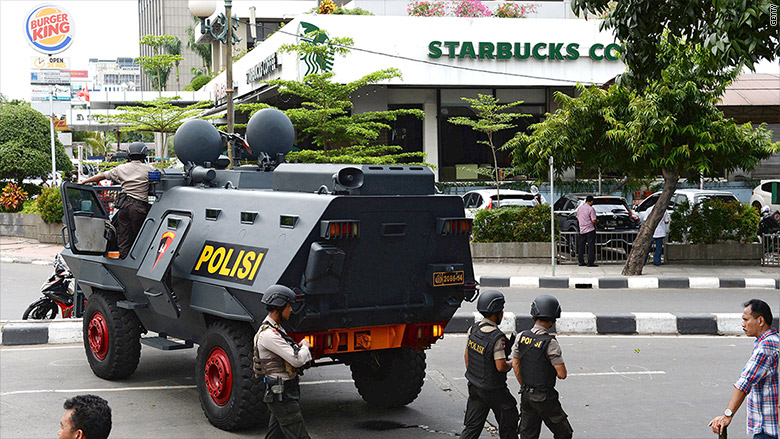 Starbucks has temporarily shuttered its Indonesia coffee shops after one of its locations in Jakarta was attacked by terrorists.
The company plans to reopen the 200 stores it has in the Asian archipelago on Friday, except for the one that was involved in the attack. Starbucks (SBUX) has 200 coffee shops in the Asian archipelago, including nearly 50 in the capital city, Jakarta.
Well-armed militants set off explosions and opened fire in the heart of Jakarta on Thursday, killing at least two people and wounding 19. Five of the attackers were killed and a manhunt is underway for the remaining suspects. ISIS claimed responsibility for the attack in an official statement posted online.
It started when an attacker blew himself up inside at a Starbucks, according to a spokesman for the Jakarta police. Two gunmen also opened fire outside the coffee shop, shooting people on the street.
But in a statement, Starbucks said "initial reports are that an explosion took place close to our store in the Skyline building" It also said one customer was injured but all of its employees are confirmed to be safe.
Related: Jakarta attacks: Deadly blasts, shootout in Indonesian capital
A Starbucks spokesmen wouldn't tell CNNMoney how badly the customer was injured, or confirm whether the Starbucks was specifically targeted by terrorists. A police spokesman told CNN that the terrorists were targeting foreigners and police.
"We are deeply saddened by the senseless act that has taken place in Jakarta," said Starbucks. "Our hearts are with the people of Indonesia."
Indonesia is a major producer of coffee. Starbucks sources some of its beans from the island of Sumatra.
-- Kathy Quiano, Ed Payne and Euan McKirdy contributed to this story.