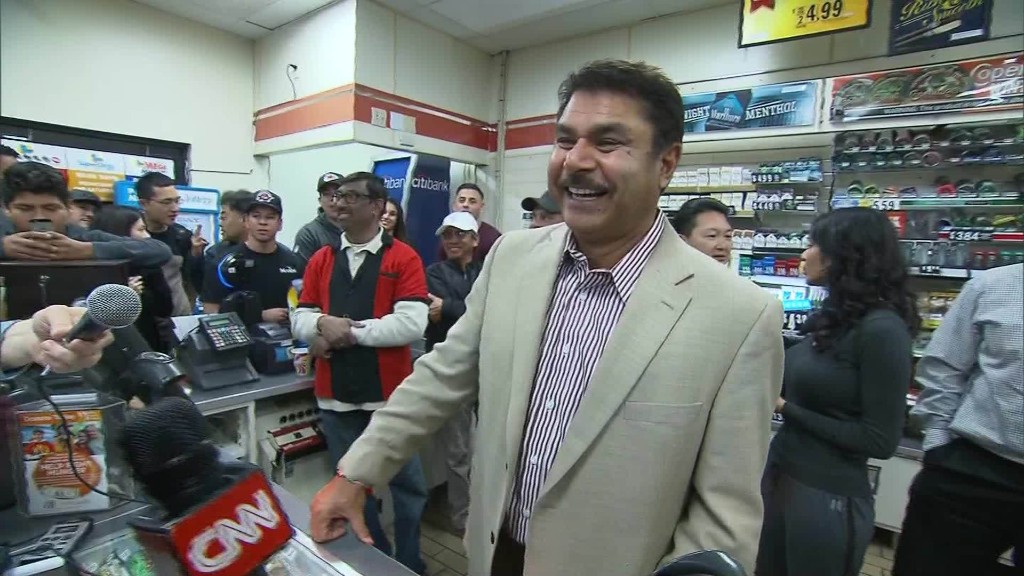 Winning the Powerball jackpot means big money. But what about the people who sold the winning tickets?
The Powerball drawing on Wednesday night produced three winning tickets in Chino Hills, California; Munford, Tennessee; and Melbourne Beach, Florida.
California has the biggest reward for the ticket seller -- $1 million. In Florida, the vendor will get $100,000, while the winning ticket in Tennessee is worth just $25,000 to the person who sold it.
Related: Powerball winners: Annuity or lump sum?
Balbir Atwal, the owner of the 7-Eleven that sold the winning ticket in California, said the news was very exciting.
"I didn't expect this big crowd but my Chino Hills customers love me, and I love them," he said, as news of the winning ticket spread.
Atwal has owned his franchise for 24 years. He said during a press conference on Thursday that he was going to give some of the money to charity as well as share some with his employees and family.
He said a portion of his winnings would also go to 7-Eleven since his store is a franchise of the company. 7-Eleven did not respond to requests for comment.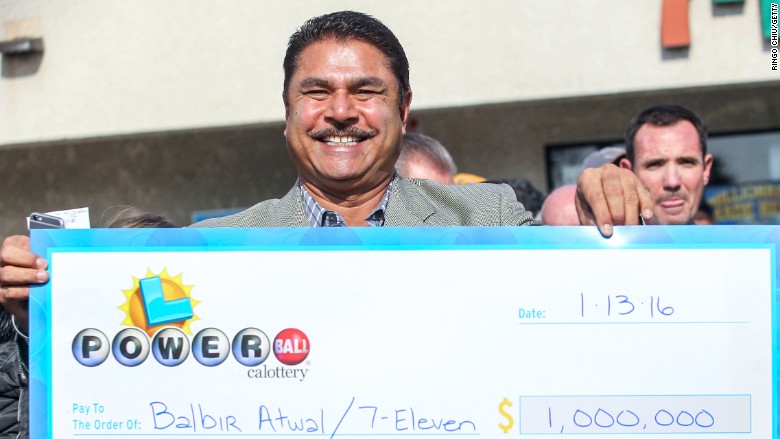 Related: Biggest lottery jackpots in U.S. history
In Tennessee, the winning ticket was sold at Naifeh's Food Mart.
Dana Naifeh, who owns the market with her husband, is happy with her $25,000 payday and said they plan to give some of it to their employees as a token of their appreciation.
"It's just sheer excitement and surprise," Naifeh said. "It's been a crazy, exciting, fun day and we're just hoping the winner is someone local."
Naifeh said they initially felt they'd received "the short end of the stick" but felt better once they learned why they get lower payouts than sellers in other states.
Tennessee lottery retailers get a higher commission on sales -- 6.5%. California vendors make between 4.5% and 6% on ticket sales and Florida sellers get a 5% commission.
The ticket in Florida was purchased at a Publix store. Publix told CNNMoney that the $100,000 would be added to its profit and loss statement.
Related: How the lottery snares the poor
Wednesday night's winners beat the 1 in 292 million odds to win the $1.586 billion jackpot. Each ticket is worth more than $500 million.
None of the winners have come forward thus far. In California, the winner has a year from the date of the drawing to come forward. Tennessee gives winners 180 days. Floridians have 180 days to claim their prize, unless they want a lump sum in which case they have 60 days.