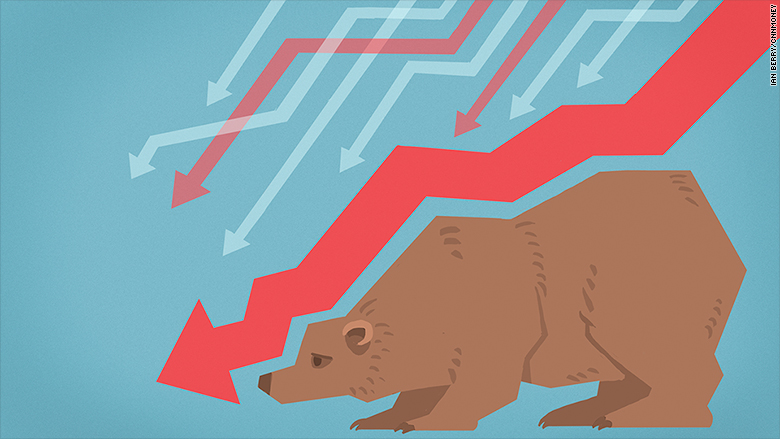 The global doom and gloom is dragging stocks down across the world.
Some of you might feel comfortable that those big name all-American brands in your portfolio will save you from the global turmoil that's churning the stock markets currently.
But think twice -- some of America's best known companies have lots of global exposure. Perhaps more than you think.
Starbucks, Nike and Apple come to mind. It's not a surprise that these stocks are starting to turn south as global economic fears grow.
In the last three months, shares of Apple (AAPL) are down 14%, Starbucks (SBUX) has fallen 5% and Nike (NKE) has lost 10%.
Currencies in China and many emerging markets are losing value, making American goods more expensive, and less attractive to foreign buyers.
It comes at a time when the stock market is already reeling from volatility in oil prices and uncertainty over China's economy and currency moves. Stock of all stripes have been hurt.
Here's how exposed these three America brands are:
Related: Stock market erases $1 trillion so far in 2016
1. Apple
America's most popular stock depends more on the rest of the world.
Only 35% of Apple's revenues from the U.S. China, Japan and India make up nearly a third of Apple's sales, according to FactSet. Any slowdown in those countries' economies puts pressure on Apple.
Apple's sales in China dipped 5% between the second and third quarter this year. Outside China and Japan, Apple sales in the rest of Asia were down 8% in the same period.
Related: Apple's stock plunges below $100
2. Nike:
Like Apple, most of Nike's sales comes from overseas. Nike had double digit sales growth in 2013 and 2014. But it hit the skids a little last year.
Nike's sales growth in China has actually held up well, but growth in Japan and Europe stagnated in its most recent quarter compared to a year ago. It doesn't help that another big market for Nike, Latin America, was in a recession last year.
Nike's stock hit an all-time high last November, and it's still way up from where it the previous year. But it's slipped since November and slowing sales growth won't help the cause.
Related: The surprise winner in the sneaker wars is...
3. Starbucks
The coffee giant is betting big on Asia. One in every five Starbucks cafes is now in the continent. The company has over 5,400 cafes in China and the rest of the region. That's up from 3,300 cafes only three years ago. (Full disclosure: I own one share of Starbucks).
Starbucks hasn't been hit that hard yet -- its sales in Asia were up 23% in three months ending in September compared to the previous year.
But its international business received a sobering wake-up call Thursday: a terrorist attack near one of its cafes in Jakarta, Indonesia. The company closed 200 cafes in Indonesia for the rest of the day.
That's probably not going to dent the company's overall sales numbers, but it's a reminder of how risks and uncertainty in far flung countries have the potential to hurt American stocks.