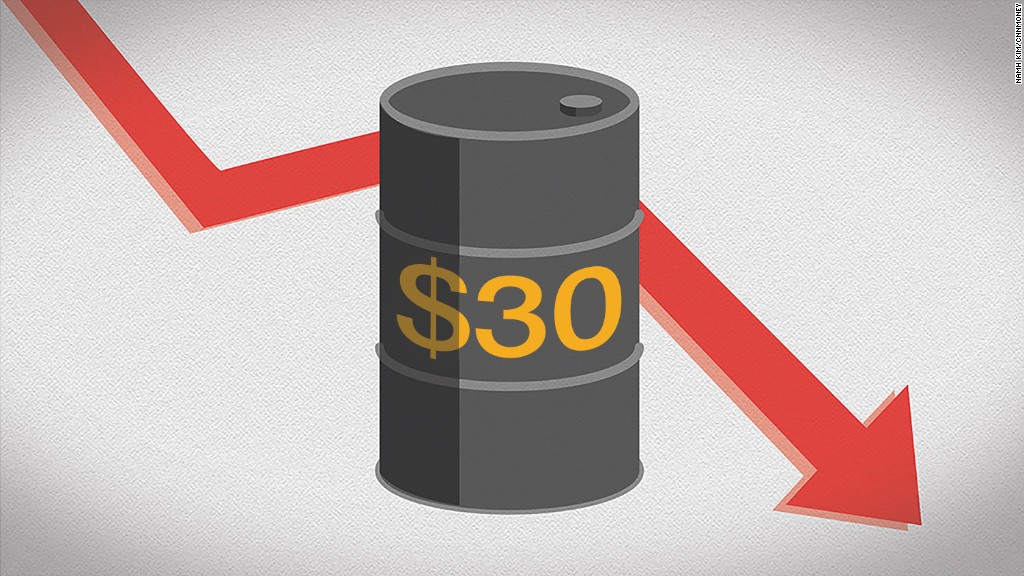 Surprise! The stock market is tanking again because of oil and China. It's hitting energy and tech stocks hard.
The biggest losers list reads like a "who's who" of the oil industry:
Williams Companies (WMB) (natural gas firm) -12%
Consol Energy (CNX) -11.5%
Marathon Oil (MRO) -10.3%
Anadarko Petroleum (APC) -8.5%
Transocean (RIG) (offshore drilling) -6.5%
Ensco (ESV) (offshore drilling) -6.5%
Oil and stocks have been BFFs lately. When oil rises, so does the market. And they hold hands on the way down as well.
On Friday, oil plummeted below $30 a barrel. Experts are jumping over each other to name the lowest price possible. Some have even said $10 oil is coming.
So it's not a shock that energy stocks still haven't found a bottom, either. Although Warren Buffett -- the investor famous for telling people to buy when others are fearful -- has been purchasing more shares of energy stock Philips 66 (PSX) lately.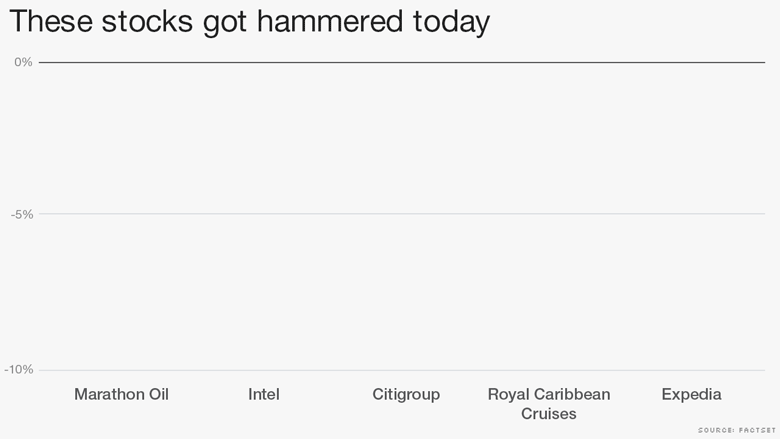 Related: Investors are terrified and they overreacting
Tech takes a hit
Technology stocks are looking queasy as well. They were the darlings on 2015, but they're the runts so far in 2016. The tech-heavy Nasdaq has lost over 10% so far this year, while the S&P 500 is "only" down 8%.
On Friday, these tech stocks got hit:
Intel (INTC) -9%
Micron Technology (MU) -8%
Expedia (EXPE) -4.5%
Microsoft (MSFT) -4%
Facebook (FB) -3.5%
Apple (AAPL) -2.5%
Some say it was time for a reality check on the sky-high prices of many technology companies. Others point out that the fate of many tech companies is now tied to China and other emerging markets.
Apple, for example, does about a third of its sales now from China, Japan and India.
"Our team on the ground in China has gotten fairly cautious about what's going on in China right now," said Intel CFO Stacy Smith on a call this week.
Intel had its biggest single-day stock drop Friday since the crisis year of 2008. Not only are PC sales underperforming, but the data center business is slipping too, according to its latest earnings Thursday after the close.
Related: China doesn't know what it's doing on stocks
It's a guessing game as to whether China's economy is just bruised or really hurting. The government still says growth is almost 7%. Most independent experts say it's more like 3.5% to 5%. The question remains: Could it be worse than that?
Watch out for the American consumer
But the biggest variable of all is arguably the American consumer.
The thesis that's supposed to calm everyone down in 2016 is that the U.S. consumer is still doing OK. More Americans are getting jobs. Gas is cheap and wages are expected to pick up. All of that is supposed to translate into more spending.
Interestingly, many consumer-related stocks GAINED during the big Friday sell-off.
Best Buy (BBY)+3%
Hasbro (HAS) +2.5%
Tiffany (TIF)+1%
Macy's (M) +0.6%
Stocks like Nike (NKE) -- which has a lot of exposure to China -- were only down about 1.5%, while Target (TGT) was nearly flat.
Related: Your all-American stocks won't save you from global turmoil
What these retail stocks do could change the market dynamic. Is this just a story about energy being down but everything else is fine? Or it it a deeper pullback than that?
As earnings season gets underway, the optimists will be focused on retail.
If the American consumer isn't holding the global economy up, then nothing is.