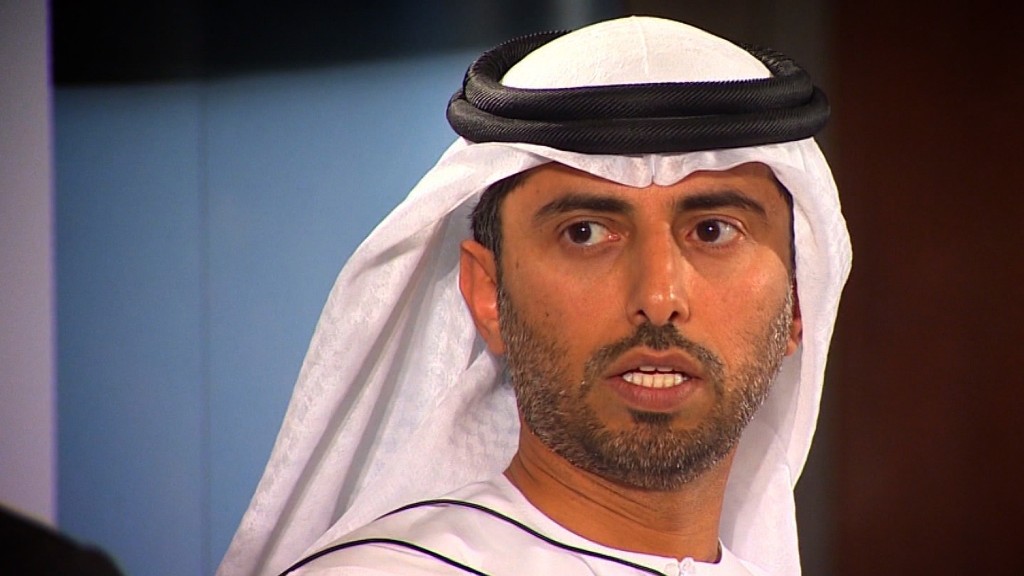 The world's business leaders will gather at the World Economic Forum with mixed messages from OPEC oil producers ringing in their ears.
The Vienna-based group of 13 producers is now a house deeply divided, and I would suggest, facing the worst internal crisis in its 55-year history.
That was abundantly clear at an energy forum I chaired in Abu Dhabi this week, featuring the ministers of energy from the United Arab Emirates and Nigeria.
Nigeria's top oil official, who is also the outgoing OPEC president, said he wants to see an emergency meeting, perhaps as soon as the end of February, to discuss a possible production cut to help halt the oil price crash.
"I expect to see one," Emmanuel Kachikwu said in an interview. "I think a ... majority in terms of [OPEC] membership are beginning to feel that the time has come to ... have a meeting and dialogue again once more without the sort of tension that we had in Vienna on this."
Later that day, the UAE oil minister politely, but firmly, rejected that suggestion.
"I don't think it's fair to ask OPEC [to unilaterally cut production]," said Suhail Al Mazrouei. OPEC's strategy to win back market share was working, he said.
Related: War of words breaks out among OPEC members
A report from consultancy Wood Mackenzie, showing 68 big oil investment projects have already been mothballed, appears to support Mazrouei's point, although the policy is taking longer than most anticipated.
And it's also hurting OPEC members: Angola and Nigeria are two countries mentioned by the consultancy as being hit hard by this retrenchment.
OPEC appears to be divided into two main camps: One has nine members -- ranging from Algeria to Venezuela -- who want to scrap the Saudi-led price war with non-OPEC producers.
The problem for them is that the four who want to continue the fight -- Saudi Arabia, Kuwait, Qatar and the UAE -- hold nearly all of OPEC's spare capacity, so their votes inevitably carry more sway.
Also often overlooked is that OPEC only works by unanimous decision -- making the effort to corral all members incredibly difficult at a time when their economies are hurting badly.
The UAE minister -- sticking to the Saudi line -- said low cost producers within OPEC should not attempt to prop up prices for Russia, and other non-OPEC producers.
"If we do something artificial, I don't think that's going to last," Mazrouei said.
Related: Don't expect oil to rebound any time soon
OPEC's last big foray to move the market came in 2009, when crude shot up to $147 a barrel.
Saudi Arabia opened the taps to bring prices lower, then dialed them back when oil collapsed to $40 a barrel. Prices then stabilized, but since then, the U.S. added four million barrels a day of production, which has been a global game changer.
Chris Faulkner, CEO of Dallas-based oil fracker Breitling Energy, is convinced OPEC will not reverse its stance even if U.S. output falls from a peak of 9.6 million barrels a day to an estimated 8 million by the end of 2016.
Faulkner says he constantly gets asked, "when is America going away?" in reference to shale production. The reality is the small and medium sized players are elastic and can rev back up if oil recovers and stabilizes at $50.
This is why the U.S. shale revolution, and Russia's record output of nearly 11 million barrels a day, are creating unprecedented tension within OPEC.
Nigeria's Kachikwu said there was a near mutiny at OPEC's December meeting, with African and Latin American producers threatening to walk out as a block because of the pain they're feeling.
The emergency meeting proposed by Nigeria and others could not come at a more challenging time. Iran still plans to add up to one and a half million barrels a day by the end of the year, as sanctions are lifted.
Related: Iran gears up for big return to world oil markets
Still, the outgoing OPEC president believes an agreement of some form is possible. "I think ultimately for the interest of everybody some policy change will happen," Kachikwu said.
That clearly is not a message that is resonating with all OPEC members.