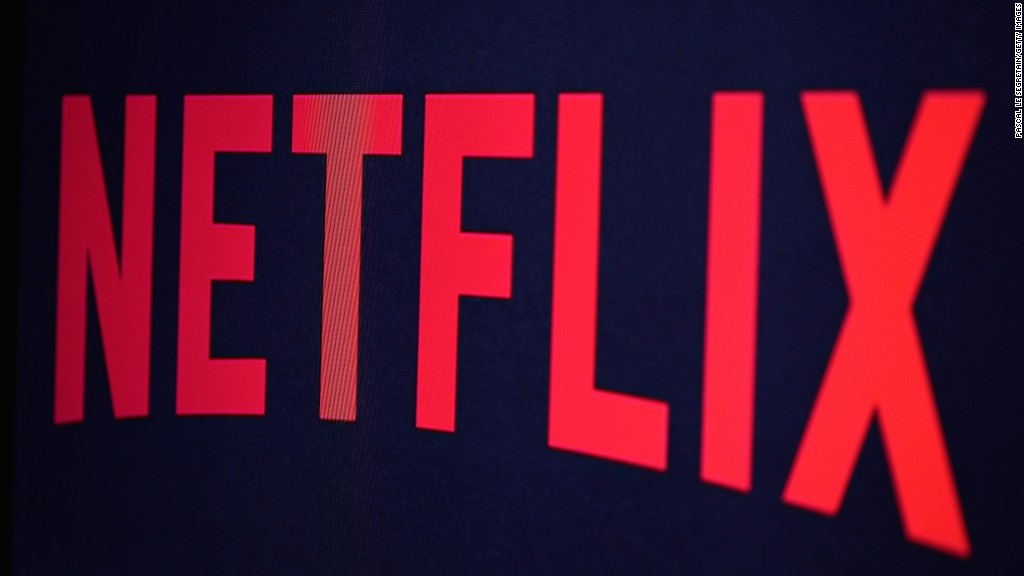 75 million subscribers. That's the number Netflix probably needs to report on Tuesday to keep investors happy.
Netflix will release its fourth quarter results after the closing bell on Tuesday. But let's cut all the pretense. Nobody is really going to care about Netflix's revenues or profits.
This is a stock that lives and dies by its global streaming subscriber count.
Netflix said in October that it expected to end 2015 with more than 74 million members. The consensus estimate from Wall Street analysts is for 74.6 million.
Merely meeting expectations just won't do though. Netflix (NFLX) shares more than doubled last year. It's the ultimate momentum stock, and many of its investors are fickle beasts (of no nation? Poor Idris Elba.) who demand perfection.
For what it's worth, an overwhelming majority of people who voted in a Twitter poll I conducted Monday morning believe that Netflix topped the 75 million subscriber mark.
And look at what happened to Netflix's stock in October when it reported that domestic subscriber growth slowed a bit in the third quarter. The stock plunged 8%.
Netflix quickly recovered though, hitting an all-time high by early December. But it, like the rest of the market, is off to a tough start in 2016. Shares are down 9% so far this year.
Although when you stop and think about it, a drop of 9% for a stock that surged nearly 135% last year actually isn't all that bad.
Related: Netflix launches in 130 more countries
In fact, Netflix is doing a tiny bit better than the Nasdaq -- which has fallen more than 10% in 2016. And streaming rival Amazon (AMZN), which also more than doubled in 2015, plunged 16% in the first two weeks of January.
So the pressure is still going to be on Netflix to post extremely strong fourth quarter numbers ... and also give a solid outlook for the first quarter.
Netflix CEO Reed Hastings triumphantly declared at the CES trade show in Las Vegas two weeks ago that Netflix was now available in almost every major market -- with the notable exception of China.
This news has arguably kept the stock from falling even further this year. Shares rose 9% on the day of the CES announcement.
Thanks in large part to international growth, Wall Street is predicting that Netflix will end the first quarter with more than 82 million subscribers.
But it will be increasingly important for Netflix to pull off its global expansion plans with as few hiccups as possible.
Analysts at investment bank Robert W. Baird downgraded Netflix's stock earlier this month, citing concerns that U.S. subscriber growth will continue to slow.
There are other risks for Netflix as well.
Related: Twitter users around the world celebrate getting Netflix for the first time
The stock's stratospheric valuation remains a big one. Netflix is trading at more than 430 times 2016 earnings estimates.
With a market value of $44.5 billion, Netflix is worth more than CBS (CBS) and Viacom (VIAB) combined. It's within spitting distance of the $50B+ market caps of media giants Fox (FOXA) and CNNMoney owner Time Warner (TWX) as well.
Competition remains fierce as well. Netflix is the king of streaming for now. But Amazon, Google (GOOGL)-owned YouTube, BIg Media-backed Hulu and Time Warner's HBO are all contenders for the crown.
Netflix is also spending a LOT to develop more and more of its own content.
And while Netflix now has several high-profile original shows -- it's no longer just "House of Cards" and "Orange is the New Black" -- the company must keep delivering new hits to remain relevant. That's not going to be easy.
Related: These are the countries where Netflix is now available
"The important factor is obviously securing top creative talent and developing creative content to drive popularity and viewership," said Rosenblatt Securities analyst Martin Pyykkonen in a recent report.
"Great content development and BIG hits is still more art than science," he added. Pyykkonen also thinks that Netflix is going to need to invest even more to produce shows catered for individual international markets. That too will be costly.
Yes, Netflix is quickly becoming a "global TV network" -- words that Hastings used in his CES speech.
But the company will have bigger problems than those disputed NBC ratings figures if it can't meet Wall Street's lofty subscriber targets.