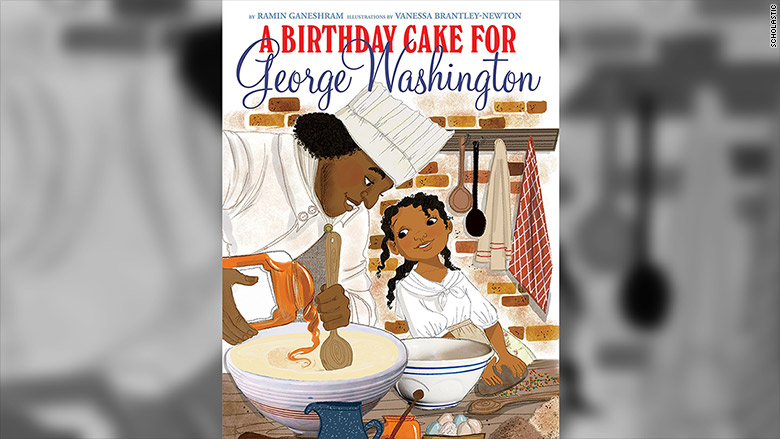 Scholastic said it will no longer distribute "A Birthday Cake for George Washington" because the picture book doesn't include enough historical context regarding slavery.
The publisher's decision comes after the text, by Ramin Ganeshram and illustrated by Vanessa Brantley-Newton, was criticized for its depiction of slavery.
The book is about Washington's servants preparing for his birthday celebration, according to a description on Amazon. It features a slave, Hercules, who "takes great pride in baking the president's cake," according to the blurb.
Scholastic said Sunday that it doesn't believe the book meets the company's standards in presenting information to younger children.
"While we have great respect for the integrity and scholarship of the author, illustrator, and editor, we believe that, without more historical background on the evils of slavery than this book for younger children can provide, the book may give a false impression of the reality of the lives of slaves and therefore should be withdrawn," Scholastic said.
Scholastic previously encouraged those concerned about the book to read the comments from Ganeshram and the book's editor, Andrea Davis Pinkney.
Ganeshram, for instance, defended the book in a post on the Children's Book Council Diversity website, saying the publication told the story of a real person -- Hercules.
"He [Hercules] was a man renowned for his skill; a man respected by President Washington, a man who lived with pride and dignity," she wrote. "I know these facts from the nearly four years of research I did with the aid of historians, largely, at the National Park Service's President's House site in Philadelphia, where my story is set. We know from first-hand accounts that Hercules was famous in his day as a towering culinarian -- admired and in-charge, despite his bondage."
Davis Pinkney also encouraged readers to take the text into historical context on the Scholastic blog.
"Hercules was one of over 300 African Americans enslaved by George and Martha Washington. Even though he was a slave, everyone knew and admired Hercules -- especially the president!" she wrote.
Scholastic said it will accept all returns on the book.