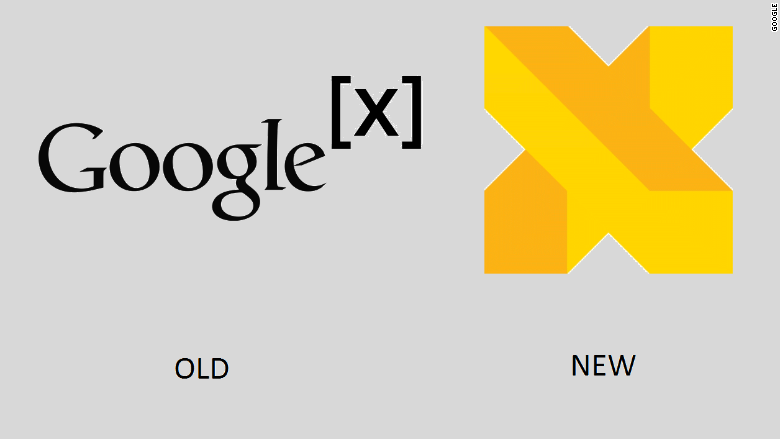 "G" is no longer for "Google X."
Alphabet has renamed its secretive, futuristic lab and given it a new logo. The company is now called simply "X," and it is represented by a 3D yellow X that looks like something that belongs in a modern art gallery.
The new identity is the latest component of a major restructuring that Google (GOOG) began rolling out late last year. Google separated its fringe companies from the search business, forming an umbrella company called Alphabet to oversee all the different businesses.
X is famous for its "moonshots," making big bets on technologies that it believes will shape the future of technology. The company aims to solve some of the world's biggest problems using experimental innovations that may or may not pay off down the road.
In addition to driverless cars, Wi-Fi balloons and drones, X has incorporated the robotics division that Alphabet purchased from Boston Dynamics.
Completely separating X from Google last year (and now in name too), has the benefit of giving investors more transparency about the finances of the different businesses. Shareholders had been growing antsy about Google's investment in expensive moonshots that may never take off, since the company makes nearly all of its money from search advertising.
For the first time ever next month, Alphabet (GOOGL) will break out the finances of each of its different companies. Alphabet is expected to report its quarterly financial statement on February 1.
One product that X won't report about is Google Glass, the wearable screen that makes people look like cyborgs. Last year, Google said that it stole Glass away from X, making it a Google product along with Maps, Gmail, YouTube and Hangouts.
Glass is perhaps X's most famous (and ridiculed) product. The once-promising gizmo came to symbolize all that's wrong with the intrusiveness of technology in people's lives. People who wear Google Glass have not-so-affectionately been called "Glassholes."