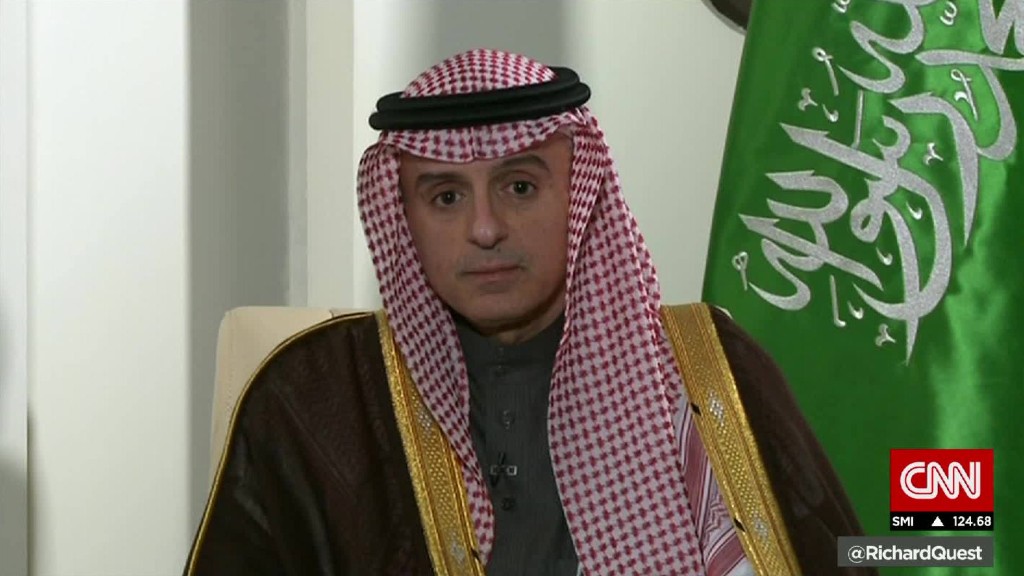 Global markets' bad start to 2016 just got uglier.
World stocks fell sharply Wednesday as oil sank below $27 a barrel to its lowest level since September 2003.
Japan's Nikkei nosedived 3.7%, taking it more than 20% below its recent high in June and into bear market territory. The Hang Seng in Hong Kong slumped 3.8% to its lowest level in more than three years.
In Europe, the FTSE closed down 3.5%, lead by energy and mining shares. Paris also closed down 3.5% while Germany's Dax closed 2.8% lower. In Milan the FTSEMIB ended down 4.8% with bank shares the hardest hit.
By midday, the main indexes on Wall St. were down in the region of 3%. The S&P 500 and the Dow are now down 10% in 2016.
The crash in oil prices keeps getting worse, heightening concerns about the health of the world economy. U.S. crude oil tumbled to a low of $26.19.
Investors remain jittery over the flood of supply Iran is preparing to unleash on the saturated market in the coming months after the lifting of Western sanctions.
Related: Saudi Arabia says oil price crash isn't plot against Iran
Energy stocks were among the biggest losers in Hong Kong.
Shares in the Chinese oil giants Sinopec, PetroChina and CNOOC all dived at least 6%. CNOOC announced Tuesday that it was cutting production this year amid falling oil prices.
Stocks listed in Hong Kong are also coming under pressure from a steep decline in the Chinese territory's currency, the Hong Kong dollar.
The drop in oil prices is creating a widespread headache for financial markets. It's causing energy companies' profits to plunge, raising worries about the prospect of bankruptcies in the oil sector and spooking investors about global growth.
Related: China and oil will drag down global growth, IMF says
Iran's return to the oil market is deepening an already huge supply glut in the industry.
The International Energy Agency warned this week that the world is "drowning" in oil, especially in light of lackluster demand around the world.
China, the world's second-biggest economy and a key consumer of commodities, posted its slowest annual growth in 25 years on Tuesday.
Investors have fretted over Chinese officials' ability to smoothly manage efforts to shift the economy away from a reliance on exports and debt-fueled investment.
Stocks in Shanghai, which slipped into bear market territory last week, shed 1% on Wednesday.