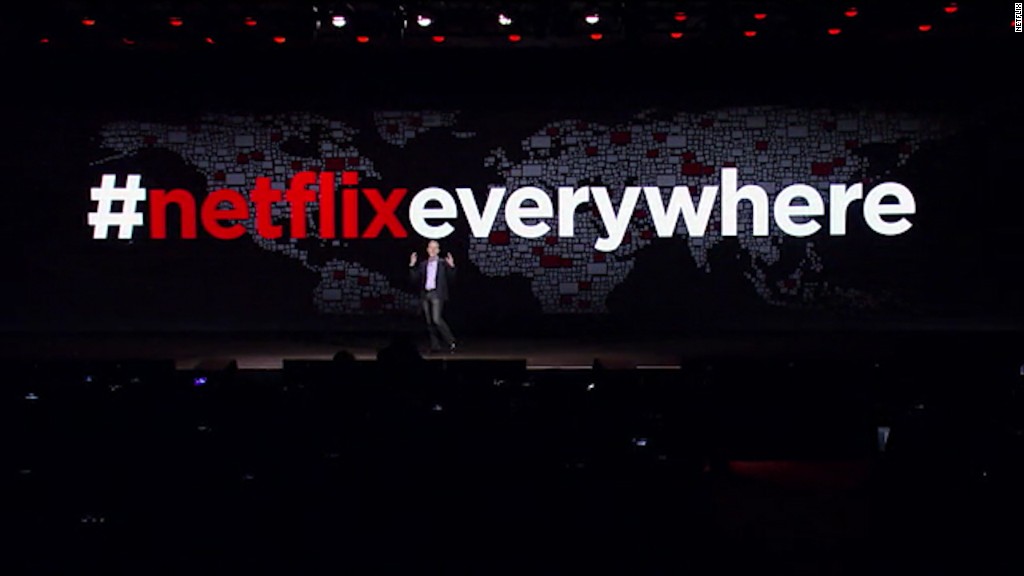 Netflix topped expectations with 75 million subscribers when it reported its fourth quarter earnings on Tuesday, and took a gleeful dig at traditional TV.
Its biggest boost came from its international growth. The company reported that it had added 4 million international subscribers, topping expectations of 3.5 million.
It added 1.56 million subscribers in the U.S., roughly in line with expectations.
The stock jumped 7.5% in after-hours trading.
Netflix (NFLX) said it is bullish about its next quarter, predicting 6.1 million new members in the first quarter, due to its expansion "virtually everywhere but China."
When it comes to China, Netflix is being cautious in its forecast: "We may be able to get started this year and thus deliver on 'whole world by end of 2016' or it may take longer."
Netflix also took a shot at executives of traditional TV, which the company had found itself in a war of words with in recent days.
"An NBC executive recently said Internet TV is overblown and that linear TV is 'TV like God intended,'" the company wrote. "Our investors are not as sure of God's intentions for TV."
When Netflix reported last quarter that its domestic subscriber fell short of the projected 1.15 million increase, the stock plunged 8%.
However, the stock recovered and hit an all-time high in December.
The company's fourth quarter report comes just weeks after the company announced that it was launching in 130 more countries around the world including India, Poland, and Russia.
"You are witnessing the birth of a global TV network," Hastings said during the announcement.
The company has also made big announcements regarding the return of one of its most-talked about original shows.
Related: Netflix launches in nearly every country but China
Marvel's "Jessica Jones" was renewed for a second season on Sunday following a critically acclaimed first season that debuted in November.
Netflix's other Marvel series, Daredevil, will return for its second season on the service on March 18.
The company has also gained attention in the past weeks for its true crime series "Making of a Murderer."
The true tale of Steven Avery has captured the attention of many of the company's binge viewers leading hundred of thousands of people to sign petitions supporting Avery.