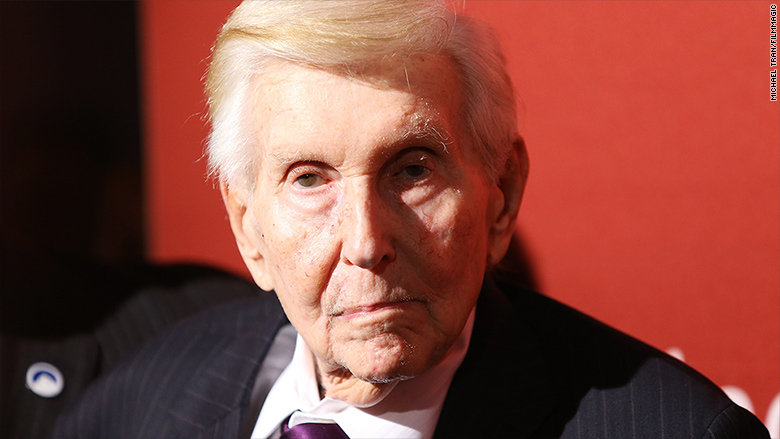 Viacom, CBS and respective board members were sued on Tuesday for prioritizing the interests of Sumner Redstone, the companies' 92-year-old executive chairman, over that of their shareholders.
The suit, first reported by The Hollywood Reporter, states that Viacom CEO Philippe Dauman, CBS CEO Leslie Moonves and other top executives "put their personal loyalty to Mr. Redstone... well ahead of their loyalty and respective fiduciary duties they owe and owed to Viacom and/or CBS and their respective shareholders."
Viacom said Tuesday that the lawsuit "is without merit."
The lawsuit comes amid a complicated legal battle over Redstone's health, which began in October when the ailing Redstone decided to cut ties with Manuela Herzer, his former companion and caregiver, and deprive her of control over his healthcare decisions.
Related: Sumner Redstone's camp prevails in court - for now
Redstone instead placed Dauman in control of his healthcare, and Herzer responded with a lawsuit stating that Redstone "lacked the mental capacity" to do so. (His directive was signed with an illegible scrawl). Herzer has sought and so far failed to win depositions from Redstone and Dauman.
Sign up for the Reliable Sources newsletter
E.F. Greenberg, the plaintiff suing on behalf of other shareholders, is objecting to the fact that Redstone received millions of dollars in bonuses "while he was physically and mentally incapacitated and, according to his principal caregiver ... was 'unable to communicate reliably or competently manage his own health care,' and certainly unable to fulfill the responsibilities for which he was paid."
The lawsuit states that Redstone was paid $22 million from CBS and $24 million from Viacom over a two-year period.