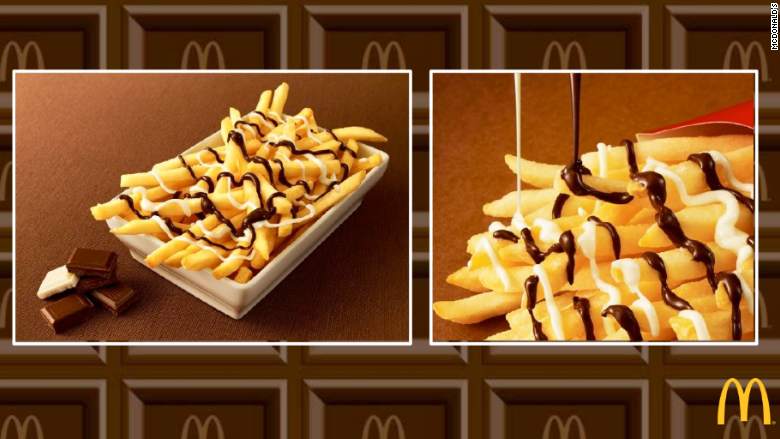 Forget ketchup. McDonald's Japan is serving up French fries smothered in chocolate.
The McChoco Potato is an order of French fries served with white chocolate and cacao-flavored sauces, and Japanese menus will add the concoction on January 26.
"The combination creates a wonderful salty and sweet harmonious taste," McDonald's said in a statement.
There are more than 36,000 locations worldwide. That includes 3,494 stores operated by foreign affiliates, and they're primarily in Japan.
Related: 7 crazy fast food combinations
McDonald's (MCD) said in its most recent financial filing that its Japanese market is hurting due to fewer visitors and weaker sales.
Sales in Asia have been down ever since McDonald's was hit by a food-borne illness scandal in China in 2014.
The fast food chain may be known for Big Macs and chicken nuggets, but it's no stranger to bizarre recipes.
It introduced the McLobster sandwich at its Canadian stores in 2015, and a Mexican McMuffin puts refried beans on breakfast bread.
In India, the menu includes the McAloo Tikki sandwich, which replaces a beef patty with one made of potato and peas.
Japan has also seen another iteration of French fries called the Shaka Shaka Potato, which was topped with cheese sauce or bacon.