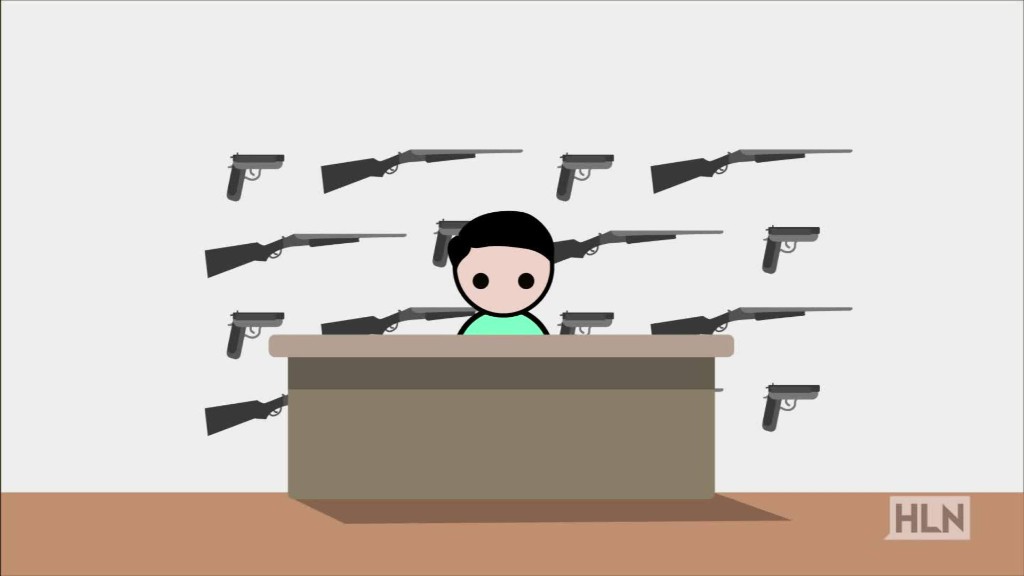 The gun market is thriving like never before, which means more traffic for the Iron Pipeline.
The Iron Pipeline refers to the I-95 corridor connecting New York City, which has strict gun laws, to the Southern states that have relatively lax gun laws. It also refers to Chicago and its proximity to gun-friendly Indiana.
President Obama invoked the Iron Pipeline on Jan. 5 when he announced executive actions to clarify laws on background checks and to hire hundreds of ATF and FBI agents to enforce them.
"Guns cross state lines as easily as cars do. If your state has strong gun laws but the neighboring state does not have strong gun laws, the guns come into your state. That's called the Iron Pipeline," the president said.
Brooklyn District Attorney Ken Thompson is wearily familiar with the Iron Pipeline.
"When there's a profit incentive, people will drive through the night on I-95 to bring these guns into our city," Thompson told CNNMoney. "Our problem is really the states down South, or in other parts of the country that have weak gun laws. We have strong gun laws, but we're being overwhelmed with all the guns from these weaker states."
"There is a significant financial incentive for these gun runners," said Thompson. "They're merchants of death."
Related: State laws create gun control patchwork across America
Thompson charged eight suspects in a 541-count indictment last year for smuggling 112 guns into his borough, including handguns and 20 assault weapons they allegedly sold to undercover police officers. The traffickers allegedly smuggled the guns from Georgia and Pennsylvania on low fare buses that arrived in the city's Chinatown neighborhood.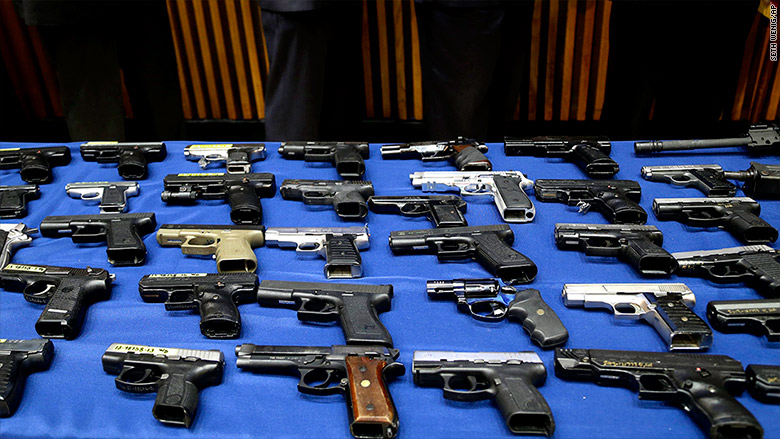 Prosecutors in The Bronx last year charged nine suspects, including alleged Bloods gang member William "Wobbles" Soler, with a 367-count indictment for smuggling 93 guns into the city, including an AK-47. The 550-pound Soler allegedly coordinated the sales by phone, while his underlings allegedly brought them by train from as far away as Maine.
Even airplanes have been used to smuggle guns into the city. Thompson indicted a Delta Airlines employee in 2014 for smuggling guns from Georgia to New York on commercial flights, including an AR-15, an AK-47 and Glock pistols.
CNNMoney estimates that Soler's guns would have cost about $33,500 on the legal market outside the city. He was looking to double his money, according to recorded phone transcripts from Bronx County Supreme Court.
Related: What really goes on at a gun show
The guns brought in on buses were obtained through straw purchases at pawn shops in Atlanta and Pittsburgh for $150 to $300. The DA said the alleged ringleader Michael Bassier resold them in a Walgreens parking lot to undercover cops, averaging $800 to $1,200 per gun. Assault weapons could get up to $2,500.
Americans are buying and selling more guns than ever, based on background check data from the FBI.
But this presents an incomplete picture of the market. A single background check can cover multiple weapons bought in a single purchase. Sales between non-dealers aren't subject to federal background checks. So the black market is off the grid, flowing undetected across state lines.