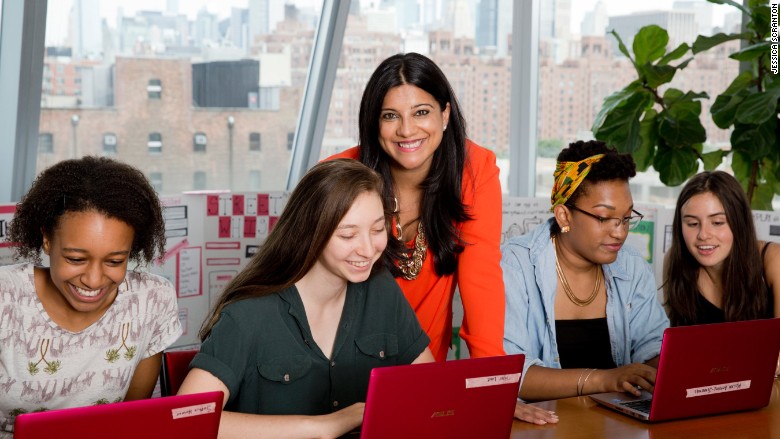 All girls should be able to learn how to code. And Girls Who Code, a national nonprofit, is doing its part to make that happen.
On Tuesday, the company told CNNMoney that it will be giving away $1 million in scholarships to high school girls who want to take part in its summer programs.
While the coding and tech classes are free, CEO Reshma Saujani said the additional funds are an attempt to help bridge the opportunity gap.
"We found a lot of girls needed to have [some compensation] to replace their summer job or pay for transportation," said Saujani.
This is the first time the organization will dole out sponsorships to mthose in need. Saujani, 40, said finances have prevented some girls from taking part in summer programs in the past.
"I, personally, was one of those girls," said Saujani, who started the organization in 2012. "Even if i were passionate about coding, I wouldn't have been able to participate."
The summer intensive programs, which are offered in 11 cities, run for seven weeks and are open to high school juniors and seniors.
Girls Who Code is using $800,000 of its operational costs, plus donations from General Electric (GE) and individual sponsors, to foot the bill. Scholarship amounts will likely range between $400 to $1,400, depending on how many girls apply.
Girls Who Code's summer courses cover a variety of tech specializations, including web development, design, robotics and mobile development. Roughly 1,560 girls are expected to participate this year, up from 1,200 last year. There are about 20 girls in each class.
Related: CODEGIRL takes on tech's gender gap
Saujani said the organization has impacted more than 10,000 girls through its summer programs and its "clubs," which take place throughout the year and are open to middle school and high school girls.
The vast majority of Girls Who Code participants intend to major or minor in computer science, said Saujani.
Roughly 1% of girls study computer science -- and just 20% of software developers are women. So Girls Who Code alumni have the potential to add a big influx of women into the STEM pipeline. As tech firms look to boost the roles of women in technical positions, it's no surprise that they're involved with Girls Who Code.
Accenture (ACN), Adobe (ADBE) and Facebook (FB) are just a few of the companies sponsoring this year's summer intensive programs, offering things like office space and mentors.
Related: Parents, yes! Your princesses can code
"As a tech company ourselves, we see the need for more diversity within our company," said Marissa Shorenstein, president of AT&T New York.
AT&T (T) has been involved with Girls Who Code since its inception. It hosted three summer programs last year, and Shorenstein said it will host more this year.
"It opens [girls] up to the possibility of a career in computer science, which we know is a gateway to better employment for them and a brighter economic future," she added.