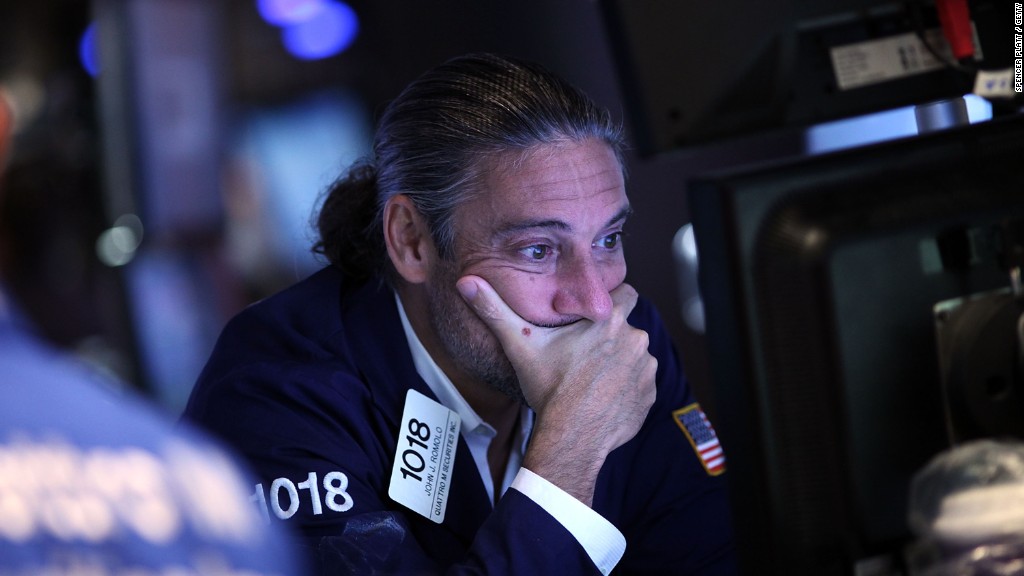 It was another nightmarish day on Wall Street -- even though it ended on a less scary note.
The Dow plunged as much as 565 points on Wednesday after crude oil crashed below $27 a barrel. However, stocks staged a comeback and the Dow closed with a loss of "only" 247 points.
The S&P 500, down as much as 3.7% earlier, closed the day off 1.2%. It was still the lowest close for the index since April 2014. The Nasdaq briefly turned positive before ending with a loss of 0.1%.
"The comeback was needed just to give people some confidence. But I don't think we can say ding-dong the witch is dead in terms of volatility," said J.J. Kinahan, chief market strategist at TD Ameritrade.
The markets remain deeply in the red on the year. The Dow has plunged 1,658 points in 2016, while the S&P 500 is down 9%.
"We've experienced some seller exhaustion -- and that's good news. But we are still facing the same headwinds," said Art Hogan, chief market strategist at Wunderlich Securities.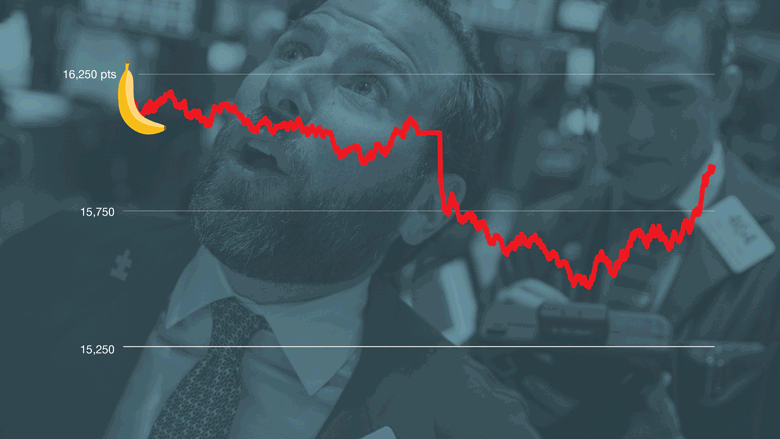 Related: Is the worst over for stocks?
Crude crumbles below $27 -- freaking Wall Street out
Crude oil -- one of the biggest headwinds facing the stock market -- plunged another 7% on Wednesday and broke below $27 a barrel for the first time since September 2003. It closed at $26.55 a barrel, leaving it down an incredible 28% in 2016.
The stock market has been intensely fixated on oil prices this year. The correlation between oil and the S&P 500 is almost perfect, a highly unusual situation compared with historic norms.
"Markets are probably not likely to stabilize until oil finds a bottom," David Joy, chief market strategist at Ameriprise Financial, wrote in a client note.
Crude oil has been slammed in recent days by concerns over sanctions lifting on Iran, which is expected to flood the oversupplied oil world with more crude at exactly the worst time.
Related: Oil and stocks locked in intense tango
Energy stocks take another dive
Cheap oil is great for car drivers but it's freaking Wall Street out for many reasons. First, the oil crash is hurting corporate profits, especially in the energy sector.
Low oil prices are raising the specter of a wave of bankruptcies in the energy sector. ConocoPhillips (COP), ExxonMobil (XOM) and Halliburton (HAL) ended the day down more than 4% apiece, even though they had fallen as much as 10% earlier.
Already, dozens of oil companies have filed for bankruptcy. Investors are also worried that cheap oil signals something negative about the health of the global economy.
Global markets remain in turmoil, with Japan's benchmark Nikkei 225 tumbling into bear market territory on Wednesday. That's market jargon for when an index or a stock dives 20% from a prior high. Stocks in Europe were also rocked, with the benchmark indices in France and the U.K. now joining Germany in a bear market.
Despite the afternoon comeback, the stock market was still dealt a setback when the S&P 500 failed to stay above the critical 1,867 level. It was a key area of support because it represented the lowest level from August 24, the day when the Dow briefly plummeted more than 1,000 points.
Related: China just sent Europe into bear market. Is the U.S. next?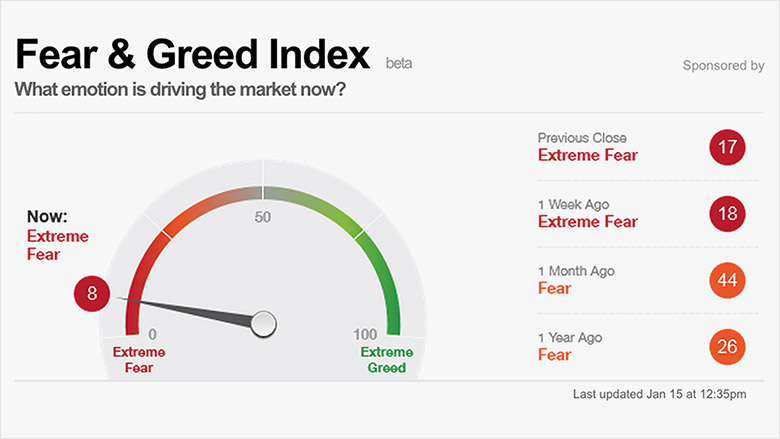 Related: Almost the entire S&P 500 is in the red
Nearly all stocks are down this year
Signs of fear abound on Wall Street. The 10-year Treasury yield slipped back below 2% on Wednesday as investors rush to the safety of government debt.
CNNMoney's Fear & Greed Index, which monitors a series of market indicators to gauge sentiment, is flashing "extreme fear."
Just 27 stocks in the S&P 500 are trading higher on the year. Two of the biggest winners are ConEd (ED), a utility that investors see as a defensive play because of its high dividend, and Macy's (M), the struggling department store that just announced plans to cut thousands of jobs.