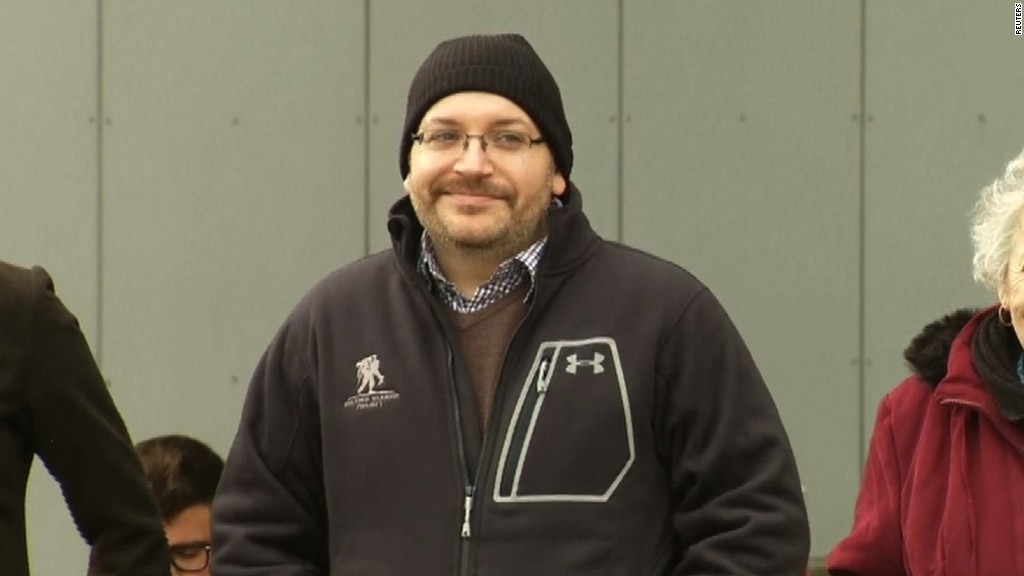 Washington Post journalist Jason Rezaian says he's "feeling fine" after being released from an Iranian prison, and he wants to spend time catching up on everything that he's missed over the past 18 months.
"For now, I want to catch up with what's been going on in the world, watch a Warriors game or two, and see the Star Wars movie," Rezaian said in his first statement since leaving Iran on Sunday.
His brother previously described Rezaian as "starved of information."
Rezaian, who was held in Iran since July 2014, was released as part of a prisoner swap over the weekend.
He has spent the past three days at a military hospital in Landstuhl, Germany, undergoing medical evaluations and spending time with family members.
There has been ample speculation about when Rezaian might speak or write about his experience behind bars in Iran.
He indicated on Wednesday that he is in no hurry.
"I've spent a lot of my life writing about the United States and Iran, and I never imagined -- and never wanted -- to become a part of the story, particularly at such an extraordinary moment," Rezaian said in a statement released through the Post. "I want to get back to writing the U.S.-Iran story at some point in the future. But I won't be saying anything further for awhile."
He also participated in a photo opportunity on Wednesday, briefly stepping outside the hospital with his family members so he could be photographed and filmed. He waved but did not speak.
In his written statement, he said "I hope everyone will respect my need for privacy as I take some time for myself and for my family."
When his Post editors met with him for two hours on Monday, he told them the same thing: "I know people are eager to hear from me, but I want to process this for some time."
Rezaian began his statement by saying "I want everyone to know that I'm feeling fine, and I feel lucky to be here at a place where I can get such terrific care."
"I appreciate everything that has been done on my behalf, and I want particularly to thank the Swiss Foreign Ministry, the Swiss Air Force and the fine doctors here at Landstuhl," he said. "I'm staying with my family at a very comfortable guest house on the base, which has been a great place to begin my recovery."