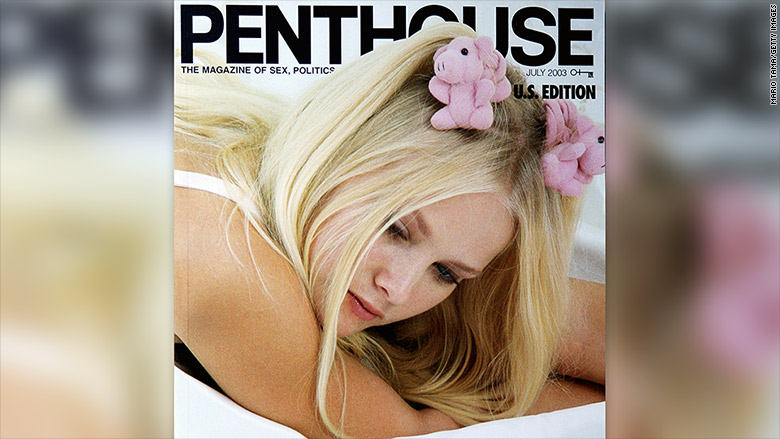 Penthouse denied reports that the magazine is folding and said it will continue to have all the nudes fit to print.
Several news outlets reported late last week that the porn magazine was shuttering its print operations to go all-digital.
The New York Post followed up Tuesday night with a story saying that Penthouse managing director Kelly Holland was scrambling to piece together a "last-minute buyout" to save the print edition.
Holland says none of it is true.
Yes, Penthouse is launching a new digital format, an upgrade to its current web offerings. And it is true that the magazine laid off all of the more than 20 employees in its New York City offices last week as it relocates to Los Angeles.
But Holland insists that nobody at the company said that Penthouse will do away with print.
"One news outlet picks it up and gets it wrong," she told CNNMoney. "Then everyone picks it up and gets it wrong."
Related: Pamela Anderson to grace cover of Playboy's final nude issue
The first outlet to pick up the story was CNBC, which stated in its lede: "Penthouse Magazine is throwing in the towel on its print edition." The Wall Street Journal also on reported Friday that Penthouse is "ending its print edition after 50 years on the newstand and will now only be offered in digital format." On Wednesday morning, The Guardian had it wrong.
The "tsunami of misinformation," as Holland put it, stems from what she concedes was a "possibly weakly crafted press release."
The press release was disseminated on Friday by General Media Communications, a subsidiary of FriendFinder Networks that publishes Penthouse.
Related: Playboy CEO: There's too much interest in porn
The press release's title stated, "PENTHOUSE MAGAZINE GOES DIGITAL!"
It went on to explain that the publication "will be released in digital format and that future issues of the magazine will be available electronically through subscription."
Nowhere in the release does it say the magazine is ceasing publication of its print edition.
"There was just this jump," Holland said of the initial reports. "Staff layoffs, digital -- it can only mean that print is going down."
"Perhaps the press release should have said, 'Penthouse launches a digital platform in conjunction with its print publication,'" she added.
Holland said she doesn't have a public relations army to "systematically make corrections" to all the false reports, so she's corrected the record as reporters have called.
Most of the earliest reports remained unchanged in the days that followed. By Wednesday evening, the Wall Street Journal had added an update under "Corrections & Amplifications." CNBC had not corrected its story. A CNBC spokesman did not respond to a request for comment.
Both outlets drew a connection to the overall decline in print pornography, including Playboy's well-publicized decision to do away with nudes.
That comparison particularly grates on Holland.
Sign up for the Reliable Sources newsletter
"What's happening to us has nothing to do with Playboy's swan dive off the cliff," she said. "In my humble opinion, the worst brand debacle of the decade was removing nudes from Playboy."
As for Penthouse's future, Holland said there are "ancillary reasons" to keep the magazine on the newstands, such as "the gravitas of the printed page."
But she's not delusional.
"Are we going to end print? Yeah, some day we're going to," Holland said. "When? I don't know. But right now, we're committed to publishing the magazine."