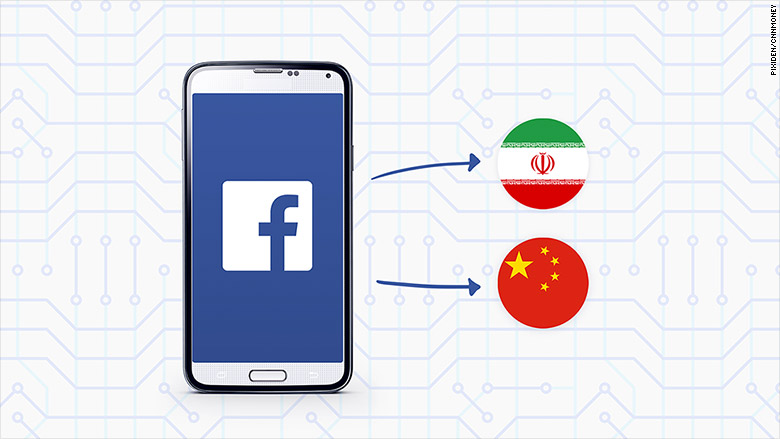 A tweak that Facebook made to its Android app could allow mobile customers in restricted places like China and Iran to connect to the social network.
It's a big step forward for human rights activists -- and it could greatly expand Facebook's reach into countries where its services are banned.
China and Iran have a combined population of 1.4 billion people, potential Facebook users that are otherwise off-limits.
Facebook doesn't say it updated the app specifically to reach people in China and Iran. But the new feature attempts to circumvent censorship on cell phone networks -- and that's really only useful to people living under authoritarian regimes.
Starting this week, the mobile Facebook (FB) app will pair up with the best online anonymity tool out there: Tor.
Tor is a system that encrypts and bounces Internet signals around the globe. It helps you evade censors when surfing the Web -- and it hides your computer's true location.
Because of that, Tor is used by criminals to dodge law enforcement. But also protects people from tyrannical governments that track what they do online -- and punish them violently.
There's a mobile app for Tor, called Orbot. Facebook tweaked its Google (GOOGL) Android app so that you can tap a button in settings, and the Facebook app will automatically use Orbot to connect to the Internet.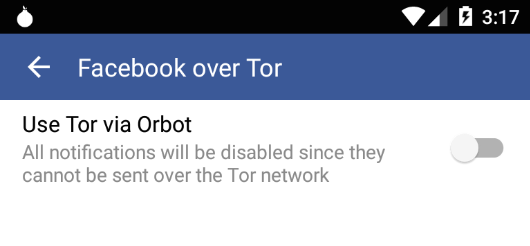 That encrypts the connection, hiding it from network censors. Then it bounces your signal to computer servers around the world several times, so that Facebook doesn't even know your true location.
There's no guarantee it'll work 100% of the time, though. The Chinese government often updates its massive Internet barrier, nicknamed the Great Firewall of China, to block these kinds of connections. That forces Tor to keep coming up with new methods for sneaking past those blocks.
Facebook said this project was started by a summer intern last year.
This is really just another step forward for a Facebook effort that began years ago. In 2014, Facebook did the same thing for desktop users. It created a special website portal for anyone using the Tor Web browser.
But this latest move is potentially much more effective, because 88% of Facebook's 1 billion daily users use their phones to connect to the social media service.
"It's really about making the experience better for people who are already connecting to Facebook over Tor," Facebook spokeswoman Melanie Ensign said.
It might sound odd that Facebook -- the data-hungry giant that wants to track where you are, what you're eating and who your friends are -- is willing to protect a degree of anonymity. It's kind of like ordering a Super Size meal with a Diet Coke.
But this isn't about keeping your identity anonymous from the company. Facebook's "real name" policy still requires you to use your true identity (except in rare instances that are judged on a case-by-case basis).
"Facebook is mostly doing this to extend its reach, which of course is how it makes more money in the long run," said Richard Windsor, an analyst at Edison Investment Research.
The vast majority of Facebook's growth depends on other nations. In the third quarter of 2015, 92% of Facebook's new daily users were outside the United States.
China is a huge market that Facebook now has a better opportunity to tap.
"They want to make sure they get everyone in the world connected to Facebook, and this is the only way they'll get people to do it," said Joseph Lorenzo Hall, chief technologist at the Center for Democracy and Technology.
This experiment also shows Tor isn't just a tool for visiting illegal websites in the dark.
"Facebook is pointing out that Tor is truly for everyone," said Nathan Freitas, who developed Orbot.
This isn't available on iPhones, though. There's no official Tor app for Apple (AAPL) devices.