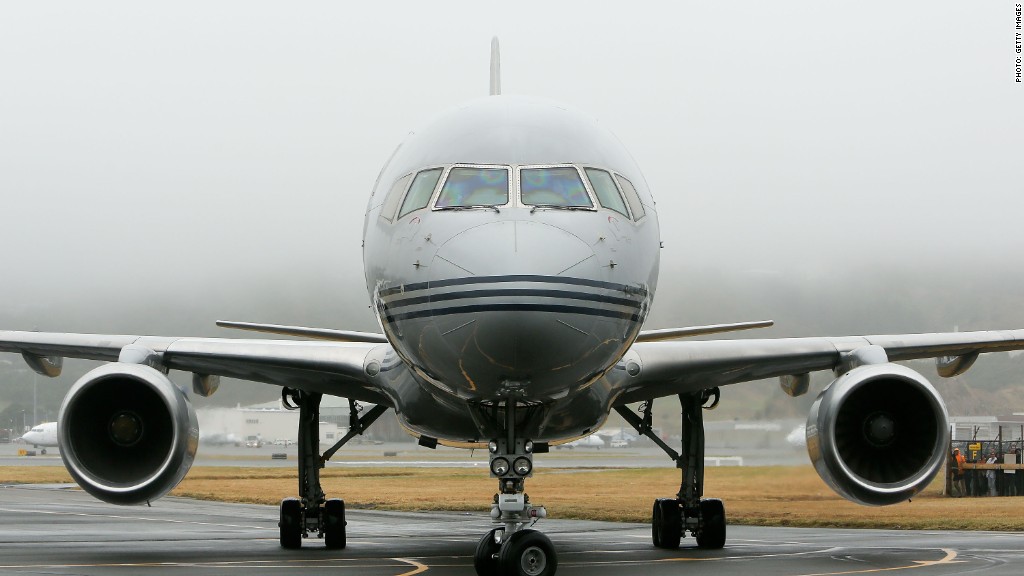 Good news for United frequent fliers. The airline is buying 40 new Boeing 737-700 airplanes to replace some of the smaller, older planes operated by its regional carriers.
United (UAL), which has ranked near the bottom of several airline customer satisfaction indexes for several years, said the new planes will enter its fleet in mid-2017. United did not say how much it would cost to purchase the new planes.
According to a price list on the Boeing (BA) web site, the average price for a 737-700 in 2015 was $80.6 million. Based on that, United could be spending more than $3.2 billion for the new jets.
United's current 737-700 aircraft seat 118 passengers, with 12 first class seats and 40 Economy Plus seats. United said it plans to replace more than half of the 50-seaters in its fleet by 2019.
"Our customers have a preference for an improved travel experience, including first class seats, Economy Plus, and Wi-Fi. These aircraft are an efficient way to meet those needs," said Gerry Laderman, United's acting chief financial officer.
It wasn't all good news for United though, which announced the 737-700 purchase in its latest earnings report on Thursday.
Even though United reported a record profit for the fourth quarter of $934 million, earnings and revenues missed Wall Street's forecasts.
The stock was flat in late morning trading. Shares of United have fallen 20% so far this year. And that follows a nearly 15% decline in 2015.
United said that currency fluctuations hurt its results. The strong dollar has been a problem for many U.S. companies that have a significant international presence.
Rival Delta (DAL) said the soaring greenback was a concern when it reported its earnings earlier this week.
United Vice Chairman Jim Compton added during a call with analysts that demand for transatlantic fights took a hit shortly after the terrorist attacks in Paris in November.
The dramatic plunge in energy prices also seems to be both a blessing and a curse for United.
Related: Delta saved $5.1 billion on fuel in 2015
United did save nearly $4.2 billion on jet fuel costs in 2015. But United indicated that the pain in the oil patch led to a decline in travel from corporate customers "impacted by declining oil prices" for the second consecutive quarter.
During the call with analysts, Compton said United was seeing particular weakness out of its Houston hub. Texas is home to many big U.S. oil companies.
United, Delta and fellow major carrier American (AAL) are also dealing with tough competition from low cost airlines like Southwest (LUV), JetBlue (JBLU) and Spirit (SAVE). They have put some pressure on the big airlines to keep fares low.
Southwest also reported its latest earnings Thursday and they were pretty solid. Profiits and revenues matched consensus forecasts.
But United has a somewhat unique challenge in the airline industry. It has faced significant merger integration pains as a result of its purchase of Continental in 2010.
There also has been turmoil (and medical drama) in the company's executive suite.
Former CEO Jeff Smisek stepped down last September in the wake of a federal corruption investigation. United has been accused of trying to curry favor with the Port Authority of New York and New Jersey.
Related: United CEO Oscar Munoz heads home after heart transplant
Smisek's replacement, Oscar Munoz, was only on the job for a few weeks before he was hospitalized following a heart attack.
But Munoz received a heart transplant earlier this month and was released from the hospital last week.
Munoz spoke to analysts on the company's conference call Thursday. He thanked everyone at United for their well wishes.
"I am certainly darn glad to be here," he said, adding that he feels great and is starting to take part in company meetings again. He said he hopes to be back to work full-time before the end of March.