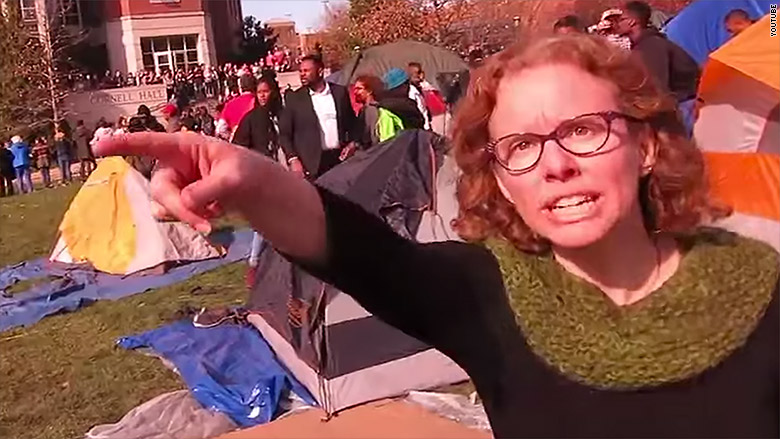 Click has been charged with third-degree assault, which is a misdemeanor, because of her clash with reporters covering the "Concerned Student 1950" protest in the fall, according to city prosecutor's office in Columbia, Missouri.
A spokeswoman for the prosecutor's office said Click will be issued a summons, and a court will set an arraignment date.
The charge is punishable by a fine of up to $300 and up to 15 days in jail, according to the city's website.
Click, an assistant professor of mass media, was filmed trying to remove a reporter from the university quad saying, "Hey, who wants to help me get this reporter out of here?"
Click could also be heard saying, "I need some muscle over here" in the video, which quickly went viral.
The professor later apologized for her actions.
Related: Protesters clash with media at University of Missouri
Mark Schierbecker, the University of Missouri student who filmed the incident, filed the complaint against Click in December.
In a statement Monday, Schierbecker said, "Although my video might seem to pin free speech issues on an individual, Melissa Click's actions reflect a broader problem that students and journalists are facing on college campuses. I don't want anyone to assume that because the city is dealing with her criminal behavior that this problem goes away."
Related: How Missouri Prof. Melissa Click could avoid assault charge
Schierbecker said that he is urging the university to "enact reasonable protections that ensure journalists can gather news without being strong-armed."
"There remains much to be done to ensure that Mizzou can be a safe space for journalists," Schierbecker added.
Click and the Missouri Department of Communications did not immediately respond for comment on the charges.
In December, Schierbecker told CNNMoney that he would be willing to "just drop the whole thing" if Click agreed to discuss the controversy with him on local radio.
"She would have the opportunity to apologize if she felt the need to, and she could give her perspective on this," Schierbecker said at the time. "Taking this all the way up to the municipal court has never been something I've looked forward to doing."