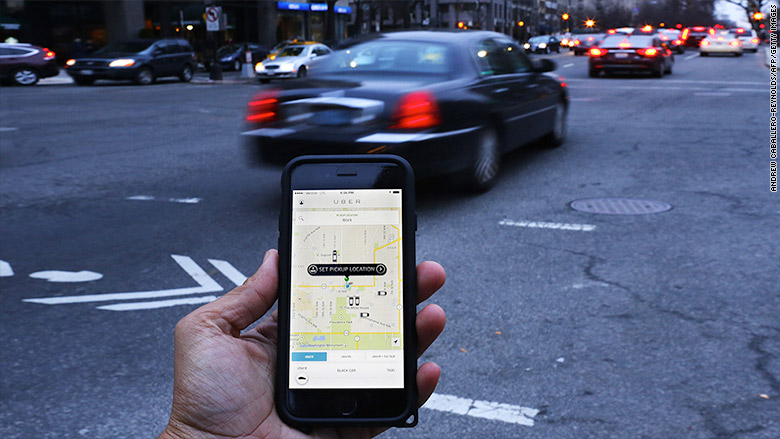 America's job market will officially include Uber drivers and all other workers in the "gig economy" next year.
U.S. Labor Secretary Tom Perez announced Tuesday that independent contractors, temporary employees and "workers holding multiple jobs at the same time" will be included in the Labor Department's numbers beginning in May 2017.
In a blog post, Perez said the Census Bureau and Bureau of Labor Statistics are working to "rerun" the Current Population Survey, which gives a detailed picture of the country's job market.
It's not yet clear if the data revisions that begin in May 2017 will include the number of gig workers on a monthly or annual basis. The Labor Department was not immediately available for further comment.
The gig economy has ballooned in recent years, thanks to ride-sharing companies like Uber and Lyft as well as other startups like TaskRabbit, which outsources household errands like painting. There are roughly 30 million full-time and part-time independent workers in the gig economy, according to a report last fall by Emergent Research and MBO Partners.
Millennials are prominent in the gig economy. In 2011, there were 1.9 million full-time independent workers (aged 21-35). Last year, that number was 5.3 million, the study reported.
Related: Gig economy: more people might have jobs than you think
Yet many of those workers aren't counted in the official jobs tally, says Gene Zaino, president of MBO Partners, which provides online accounting platforms and benefits to independent workers and businesses that employ them.
The Labor Department's decision to count gig workers is a good thing, but actually counting them could be challenging, says Zaino.
"I'm glad it's getting attention...are they going to be able to do it accurately? That's a different thing," says Zaino. "It's going to depend on how they ask the questions."
Zaino says the key is to parse out gig workers into groups, such as part-time versus full-time and not just group them all together.
One reason is that the official number of jobs added every month comes from a survey of businesses. For example, Uber drivers are independent contractors, so they do not appear on the company's official employee count.
Perez knows this: he hosted a summit in December on the "Future of Work" in part to address how to identify and understand the gig economy. The change on Tuesday acknowledges the importance of including such workers into official U.S. economic data.
"It will give us reliable, credible insight into what's going on across a range of work arrangements," Perez wrote in the blog post on the Labor Department's website.