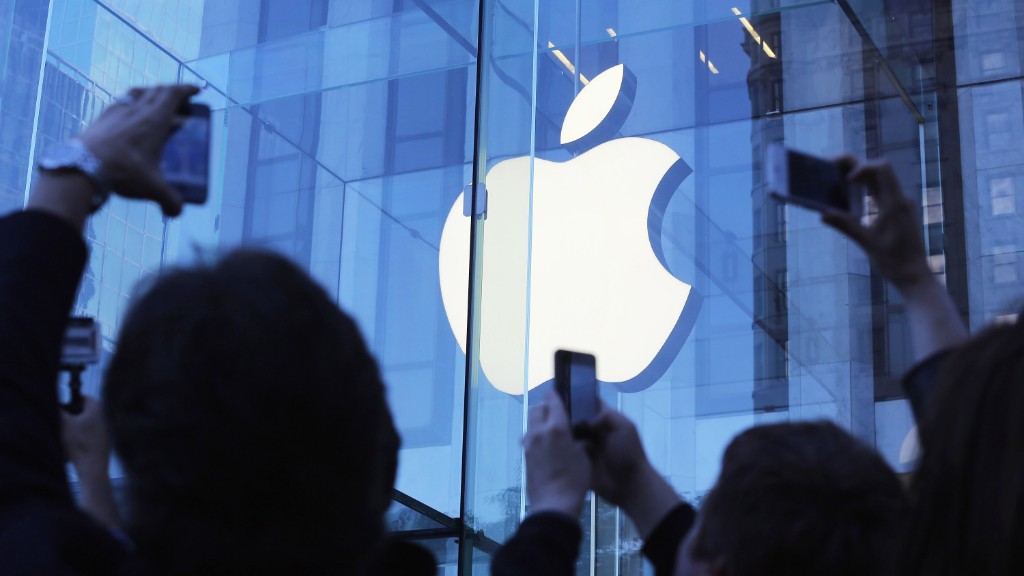 Apple had the most profitable quarter in American history, but it has reached the end of its era of unprecedented growth.
Shareholders took a deep breath when Apple released its quarterly financial report Tuesday. IPhone sales rose last quarter, as did profits and overall sales. Sales in China were also strong.
But the iPhone's growth has slowed dramatically. The strong dollar is hurting Apple too: the iPhone is now too expensive for many potential Chinese customers.
Apple said it was a rough time to have two-thirds of its sales come from outside the United States.
"The challenging global macroeconomic environment is leading to constrained conditions unlike anything we've seen, everywhere we look," CEO Tim Cook said on a conference call with analysts.
And even though Apple (AAPL) managed to beat its record quarter from a year earlier, Apple said it believes sales in the current quarter will fall for the first time in 13 years.
Shares fell 3% in after-hours trading.
Here's how Apple's past quarter stacked up against the previous year.
iPhone
Final quarter of 2014: 74.5 million iPhones sold
Final quarter of 2015: 74.8 million, up less than 1%.
Apple posted record iPhone sales in the last quarter -- barely.
Demand for the latest iPhone isn't quite as strong as many had hoped. Cook said about 60% of iPhone customers haven't yet upgraded to the iPhone 6 or 6S (or the 6 Plus or 6S Plus).
Yet Cook vigorously defended the iPhone, noting that Apple sold 34,000 iPhones an hour last quarter. That "speaks to the immense popularity of the iPhone," he said.
He also noted that people are currently using more than 1 billion Apple devices worldwide.
iPad
2014: 21.4 million iPads sold
2015: 16.1 million, down 25%
IPad sales have fallen for eight straight quarters.
Mac
2014: 5.5 million Macs sold
2015: 5.3 million, down 4%
Wall Street analysts were expecting Apple to sell a record 6 million Macs. PC sales fell broadly last quarter, but Apple had been bucking the overall trend
Profit
2014: $18 billion
2015: $18.4 billion, up 2%
Apple's quarterly profit was better than expected and the most profitable quarter in corporate history.
Sales
2014: $74.6 billion
2015: $75.9 billion, up 2%
Sales were also a quarterly record for Apple. In 2014, Apple ranked No. 5 on the Fortune 500 list of companies with the most revenue.
Apple figures that if global currencies hadn't plunged against the dollar, Apple would have posted more than $80 billion in sales, growing 8% from the previous quarter.
China sales
2014: $16.1 billion, making up 22% of Apple's total sales
2015: $18.4 billion, up 14%, making up 24% of Apple's total sales
China is still growing, just not as strongly as it had been. Sales in China nearly doubled a year earlier.
This quarter's sales
First quarter of 2015: $58 billion
First quarter of 2016: $50 billion to $53 billion
The last time Apple's sales fell year over year was March 2003. As much as investors were concerned about what Apple will say about the past quarter, many are even more focused on the current quarter.
Cook said he expects iPhone sales will fall for the first time in history this quarter.
Apple suppliers have been cutting production of iPhone components left and right, citing weaker demand. Cook chalked it up to a really great quarter a year earlier, leading to a difficult comparison, on top of a "dramatically different" economic environment now versus 2015.
Cash
Third quarter of 2015: $206 billion
Fourth quarter of 2015: $216 billion
Apple posted another record cash hoard. Some critics would like to see Apple use that cash to buy up assets that will help the company grow stronger.
One place Apple has invested in recently is virtual reality. Though it doesn't have a product yet, Cook said on the call that he believes VR has some legs.
"I don't think it's a niche," Cook said. "I think it's really cool and has some interesting applications."