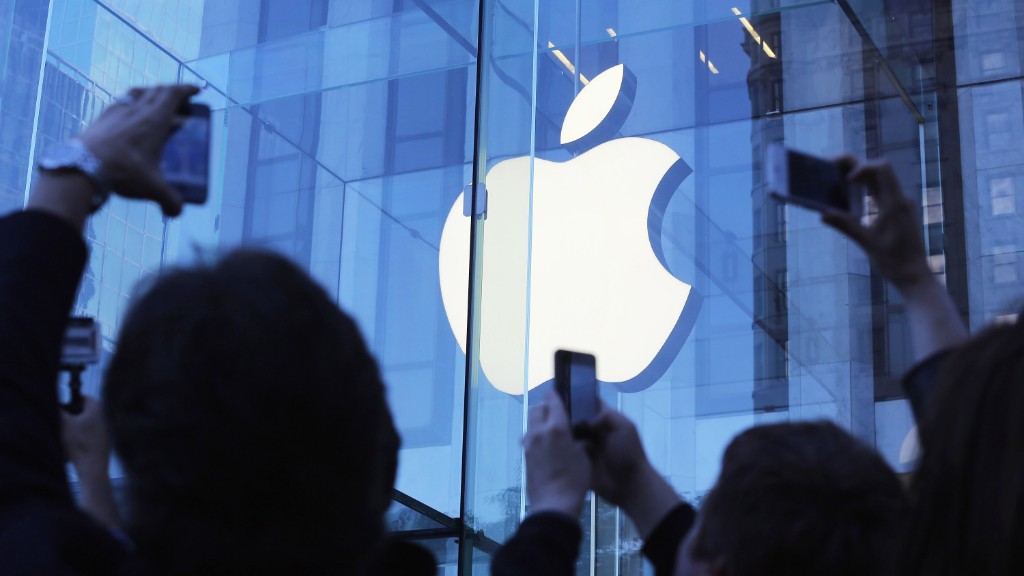 Apple just reported record profits, but it's come with a huge warning about the economy.
"We're seeing extreme conditions unlike anything we have experienced before just about everywhere we look," Apple CEO Tim Cook said on a call Tuesday evening with analysts.
The fact that Cook was willing to be that blunt is telling. Most CEOs are optimists. For much of 2015, Cook repeatedly stressed he wasn't seeing much of an impact from the turmoil in China and other emerging markets. Now it's a different message.
"We began to see some signs of economic softness in Greater China earlier this month, most notably in Hong Kong," Cook admitted.
China was mentioned 13 times on the Apple (AAPL) call, a notable jump from nine times a year ago.
Related: Apple's new $20 billion business
Apple heavily dependent on global sales
Two-thirds of Apple's business now comes from outside the United States. It's one of many large American companies that actually aren't that "all-American" anymore.
Apple is reliant on the global economy now, and the fate of that hinges on China. The problem is no one has a really good read on just how much trouble China's economy is in since its government statistics are considered unreliable (and its chief statistician is now under investigation for corruption).
That's why there's so much attention on what CEOs are willing to say when they talk to investors in the coming weeks as they report their results. What is becoming clear is that what happens in China has a domino effect around the world and Apple is experiencing that first hand.
"Major markets including Brazil, Russia, Japan, Canada, Southeast Asia, Australia, Turkey and the Eurozone have been impacted by slowing economic growth, falling commodity prices, and weakening currencies," said Cook.
The strong U.S. dollar has been especially tough for companies like Apple to manage because it makes sales abroad look puny when they are translated back into dollars.
Related: 1 Mexican peso is now worth 5 cents
Other CEOs sound the alarm
Cook isn't the only one souring on the global outlook.
"Organic sales in China and Russia were significantly lower versus last year, negatively impacting total company sales growth by more than a point," said Jon Moeller, chief financial officer of Procter & Gamble (PG), said on a call this week.
Johnson & Johnson (JNJ) executives also admitted they are "seeing a slowdown" in China, and the CEO of major chemical company PPG (PPG) called both China and Brazil "a challenge" this year.
CNNMoney survey of economists this week predicted nearly 20% likelihood of a global recession this year. That's a slightly higher forecast than the chances of U.S. recession in 2016.
Related: U.S. recession cries get louder
CEOs think China will rebound
All that said, CEOs still think China is the place to be for the long-term -- and that stock market investors are too negative overall.
"China is here to stay. The buffeting that the Chinese economy is taking during today's period of transition is necessary for it to move on its next stage of development," said Starbucks (SBUX) CEO Howard Schultz last week. Starbucks plans to open 500 new stores in China this year alone.
The Chinese government aims to double the country's middle class by 2021. That equates to about 600 million middle class Chinese, a figure that is nearly double America's entire population.
Related: Apple posts profit but growth is slowing
Several CEOs said they predict China will recover by the second half of the year. That along with ongoing strength in the U.S. and an improving Europe should lift the world economy.
Richard Adkerson, the CEO of mining giant Freeport-McMoRan (FCX)which is selling off some of its mines, put it this way, "In today's world, the business we're seeing is not as negative as the financial markets are reacting to it."
China will soon ring in the "year of the monkey," which is supposed to be a good year.
"We do believe that this too shall pass," said Cook, referring to headwinds from China and cheap oil.