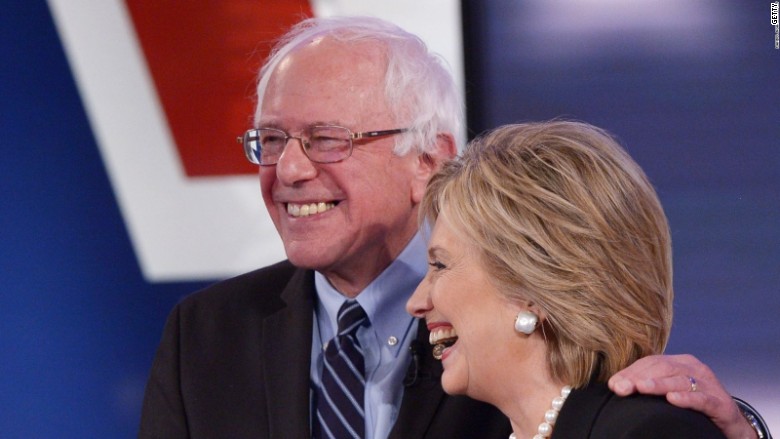 The Democratic National Committee is standing in firm opposition to plans by MSNBC and The New Hampshire Union Leader to hold an unsanctioned debate next week.
DNC Chairwoman Debbie Wasserman Schultz issued a statement Tuesday saying that it had "no plans to sanction any further debates" before the upcoming Iowa caucuses and New Hampshire primary.
DNC Communications Director Luis Miranda tells CNNMoney that the MSNBC and Union Leader effort, which runs afoul of DNC guidelines, would be unfair to the media partners who have played by the rules.
"We respect the effort, commitment, and resources our media partners at PBS News Hour and at Univision/Washington Post have dedicated to our upcoming Democratic debates on February 11 and March 9 respectively," Miranda said on Wednesday.
Related: ABC debate rules will keep several GOP candidates off the stage
"As our Chair made clear in her statement last night we will not be sanctioning any further debates before the First in the Nation caucuses and primary, but will reconvene with our campaigns after those two contests to review our schedule."
Hillary Clinton said Wednesday she hoped Wasserman Schultz would change her mind.
"I would like the chairman of the party and the campaigns to agree that we can debate in New Hampshire next week," she told Chris Matthews in an interview that will air on MSNBC's "Hardball" Wednesday night.
Privately, DNC members have chafed at MSNBC and the Union Leader's attempt to go against the DNC guidelines. The DNC has a so-called "exclusivity clause," which says that any candidate who participates in an unsanctioned debate will be excluded from one of the official six.
Related: Trump and Fox at war: Neither side is backing down
Only Martin O'Malley has accepted MSNBC and the Union Leader's invitation to the debate, which would take place on February 4 -- five days before the state's crucial presidential primary -- if it takes place at all.
Clinton's campaign said Tuesday night she "would be happy to participate in a debate in New Hampshire if the other candidates agree, which would allow the DNC to sanction the debate."
Bernie Sanders' campaign said, "We will be working with the DNC and the other campaigns to schedule additional debates."
Reading the tea leaves, what that means is that the DNC and the Democratic candidates are likely to schedule additional debates after the New Hampshire primary on February 9.
That plan would likely take New Hampshire Union Leader out of the equation. It also remains to be seen whether the DNC will partner with MSNBC in light of its attempt to defy the party's wishes.