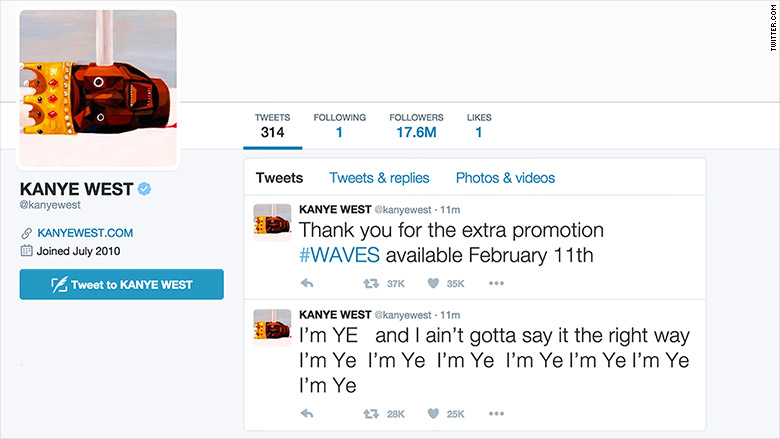 There are Twitter rants and then there is what Kanye West unleashed on Wednesday.
West, one of music's most popular and outspoken artists, hurled more than 30 consecutive tweets at fellow rapper Wiz Khalifa on Wednesday.
The tirade went on for about an hour and created a social media spectacle.
The barrage of tweets was sparked on Tuesday night after Khalifa criticized West for naming his upcoming album "Waves," a name that Khalifa felt belonged to rapper Max B.
"Max B is the wavy one. He created the wave," Khalifa tweeted. "There is no wave without him."
West didn't like Khalifa's remarks and rattled off tweet after tweet on Wednesday afternoon that mocked the Khalifa's clothes, music, and personal relationships.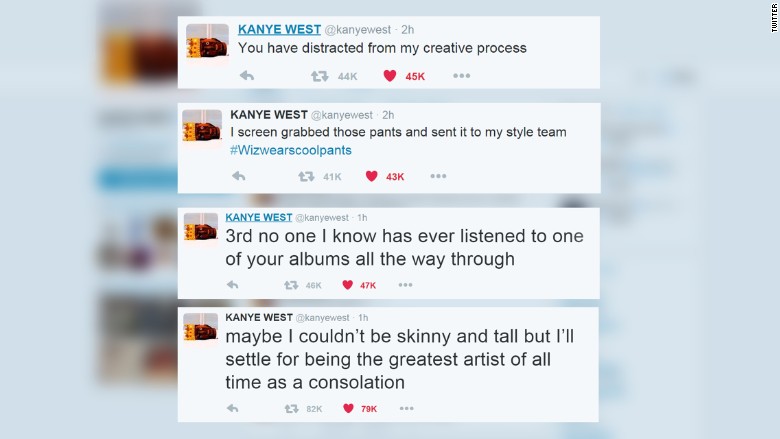 West was also irked by Khalifa using the letters "kk" in his tweets. West felt that Khalifa was referencing his wife Kim Kardashian when actually the rapper was referencing marijuana -- a point that West later acknowledged he misunderstood.
Followers couldn't look away from West's tweet storm, turning the moment into a top trending topic on Twitter.
After more than 30 fiery tweets, West seemed to cool off by professing his love for the world and saying he would delete the thread.
Even though the tweets are now gone, while it was happening some users found West's war of words more entertaining than another back and forth that had populated social media in recent days.
West made waves on social media last year when the artist said at the MTV Video Music Awards in August that he would run for president in 2020, a moment that triggered more than 247,000 tweets.