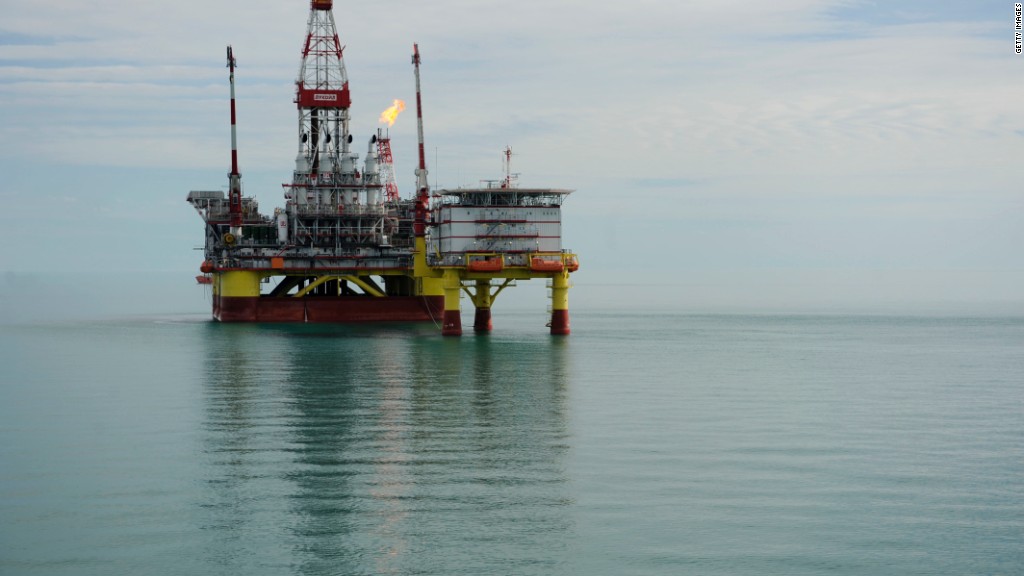 The oversupplied oil market is in desperate need of a rescue -- and now there are signs that Saudi Arabia may be coming round to that view too.
A Gulf source told CNN on Thursday that regional players are "willing to do anything to stabilize the market" and "all options are open."
That includes a potential emergency meeting in February between OPEC and non-OPEC producers like Russia.
The comments suggest a possible shift from Saudi Arabia, the powerful Gulf oil producer in control of deeply-divided OPEC. The Saudis have long resisted dialing back production out of fear of losing market share. But U.S. production is slowing slightly and oil prices have closer to $30 a barrel.
This come just after Russian Energy Minister Alexander Novak on Thursday said OPEC and non-OPEC producers are considering a 5% output cut, according to Russian state news agency TASS. Novak cautioned that it's "too early" to call anything a concrete agreement.
A spokesperson for Russia's energy minister told CNN there is no formal date for the meeting or an official invitation yet. However, the spokesperson confirmed there are discussions taking place.
Talk of a coordinated output cut excited the oil markets. Crude oil prices briefly soared 7% on Thursday, trading as high as $36.28 a barrel. But oil prices have since retreated a bit, recently sinking below $35 a barrel.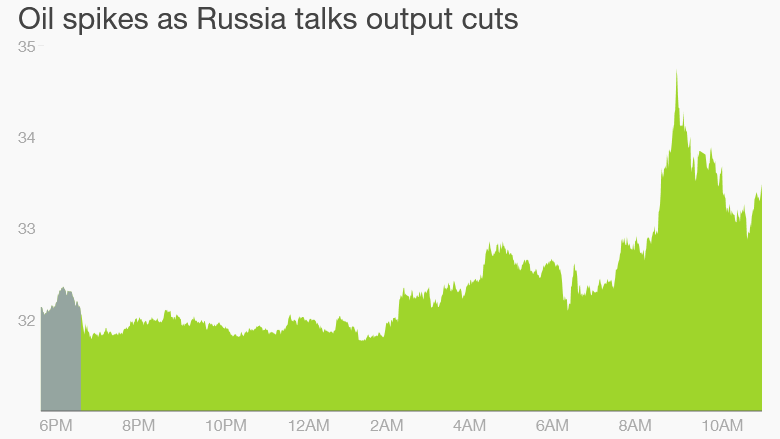 Related: Why you should worry about cheap oil
A coordinated production cut would be a big deal because the market is currently suffering from an epic supply glut. That's the main reason why oil prices have crashed as much as 75% since mid-2014, sinking as low as $26 a barrel last week.
If realized, a coordinated output cut "would be a step toward establishing a low in the crude oil markets," said Darin Newsom, senior analyst at DTN.
An output cut would be a big reversal by Saudi Arabia, the undisputed leader of OPEC. Despite the financial pain inflicted by cheap oil, Saudi Arabia has refused to reduce production.
Related: Big money is betting against Saudi Arabia
In late 2014 Saudi oil minister Ali al-Naimi told CNN the country would never consider cutting production -- not even if non-OPEC countries agreed to do the same.
"If they want to cut production they are welcome, we are not going to cut," al-Naimi said, adding that the Saudis would hold that position "forever, not [just] 2015."
Russia has also been reluctant to dial back output. Its economy badly needs the oil revenue as it continues to feel the brunt of tough sanctions from the West. The Russian ruble recently collapsed to its lowest level ever.
Russia was the world's largest producer of crude oil in 2014, pumping just over 10 million barrels per day, according to the most recent Energy Information Administration stats.
There are already questions being raised about how any potential production deal between OPEC and Russia would be enforced. That's because Russia has several major oil companies with competing interests. By comparison, state-run Saudi Aramco has a virtual monopoly in Saudi Arabia and is controlled by the kingdom.
"Even if OPEC were ready to change tack and coordinate output cuts, it is not obvious that Russia would be a reliable partner," Julian Jessop, head of commodities research at Capital Economics, wrote in a report.
Indeed, it's important to note that Saudi Arabia and Russia have a history of not getting along, especially given Russia's support for Saudi rival Iran. And that Russia has attended OPEC meetings in 2014 and 2015 to discuss a potential agreement, but both failed.