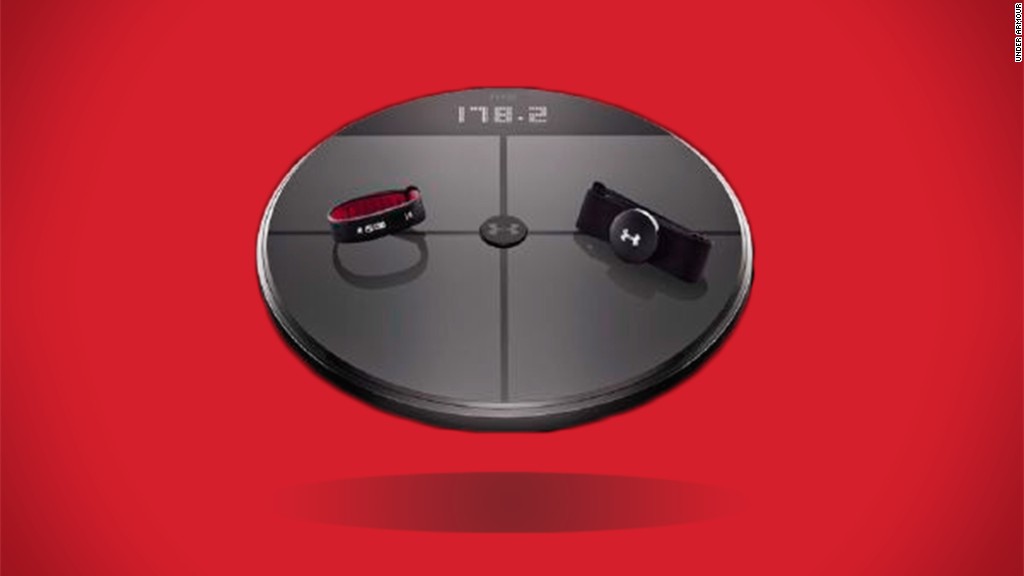 Golden State Warriors fans aren't the only ones who love Steph Curry. Under Armour does too.
The athletic apparel company reported earnings and sales that topped Wall Street's forecasts on Thursday -- thanks in part to the success of Under Armour's Curry line of basketball sneakers.
Footwear sales nearly doubled in the fourth quarter and now account for nearly 15% of the company's overall revenue.
The Curry One sneaker debuted last February -- in the middle of Curry's MVP and NBA championship season. The Curry Two hit stores in October.
The company's overall sales rose 31% in the quarter while profits were up 21%. Under Armour (UA) shares soared more than 20% on the news.
Related: Cam Newton dabs in custom Under Armour cleats
The strong results may silence some of the Under Armour doubters who felt that the company's stock was overvalued and that sales were due for a slowdown. Before Thursday's rally, the stock was down 15% for the year and 35% below its all-time high.
Under Armour clearly still has a lot of momentum -- and a great eye for talent.
The company signed Curry to a multiyear contract before he became the NBA's best player. That deal is clearly paying off. Curry and his Warriors are arguably even better this year. They're off to a 42-4 start.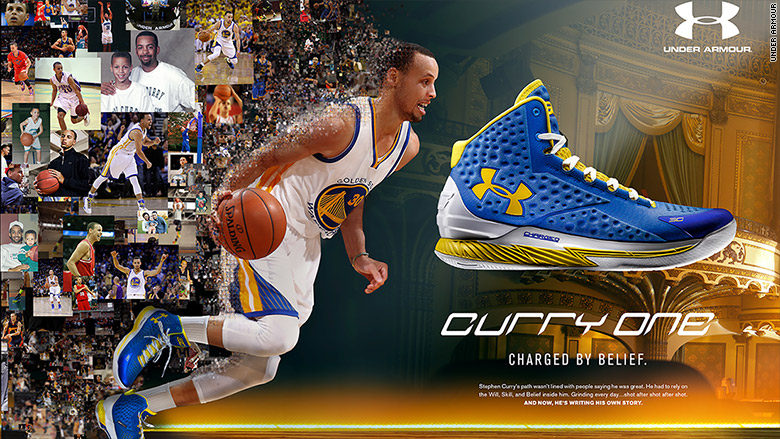 Under Armour has also signed several other young sports superstars to deals, including golf wunderkind Jordan Spieth, slugger (and National League MVP) Bryce Harper and Carolina Panthers quarterback Cam Newton -- who is heading to the Super Bowl.
And Under Armour is hoping to benefit from the increased adoption of technology in the sports world as well.
Related: Under Armour reveals its new health monitor
The company unveiled UA Record, which it describes as a digital dashboard app for health and fitness, at the CES trade show in Las Vegas earlier this month.
"From shirts and shoes to your connected life, Under Armour will continue to be a leader in innovation to make all athletes better and redefine expectations for what a sports brand should be," said Under Armour CEO Kevin Plank in its earnings statement.
Still, Under Armour has yet to conquer the world. While the company is aggressively targeting Brazil, Europe and China, nearly 90% of its revenue comes from North America.
And despite its impressive growth, Under Armour still trails Nike (NKE) and Adidas (ADDDF) in the sports world. Under Armour reported full year sales of just under $4 billion. Nike's annual revenue is expected to be nearly $33 billion.
But in a market like this, being an underdog may not necessarily be a bad thing. At least Under Armour won't have to worry about the strong dollar.
Related: The surprise winner in the sneaker wars is ... Skechers
Along those lines, Under Armour said that it is expecting 2016 to be a solid one for the company as well. It is forecasting sales growth of more than 25% -- in line with Wall Street's targets.
That might be a conservative estimate though.
FBR analyst Susan Anderson wrote in a report Thursday that she thinks revenues could grow by around 30% annually for the next few years -- largely due to the opportunity it has to win more market share in footwear.
So as long as Steph Curry keeps raining down threes, Under Armour may be able to capitalize on his talents for a long time.