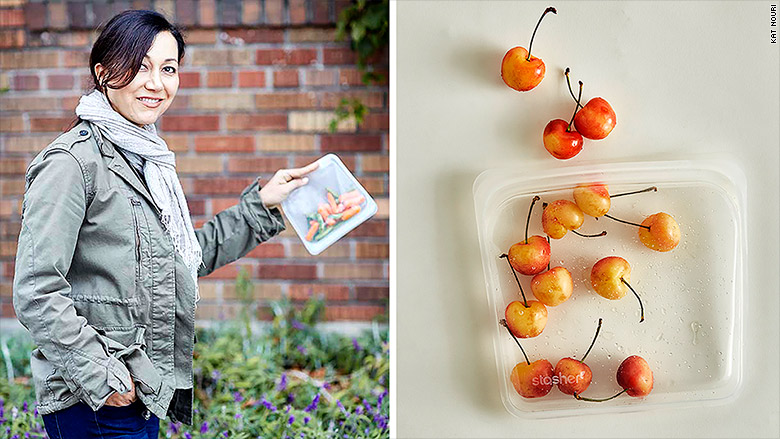 Kat Nouri has a love-hate relationship with plastic.
As an artist and product designer, she's enamored with its transparency and the endless creative uses for it. But as a mother, and an environmentally-conscious consumer, she's disgusted by it.
"Plastic is a big part of our daily lives. There's no denying it," said Nouri. "But every time we use more of it , we're harming ourselves and Earth."
So she's doing something about it.
On Thursday, Nouri unveiled Stasher, a line of sandwich bags made entirely of silicone, a natural material made of sand, rock and oxygen.
Related: More plastic than fish in oceans by 2050
Like plastic sandwich bags, the silicone bags feature the same pinch-press, air-tight closure. But the comparisons end there, said Nouri.
Her silicone bags are petroleum-free and contain no PVC, latex or phthalates.
And while 20 million plastic bags end up in U.S. landfills each day, Stasher bags are reusable for at least three years and can be frozen, microwaved or put in the dishwasher.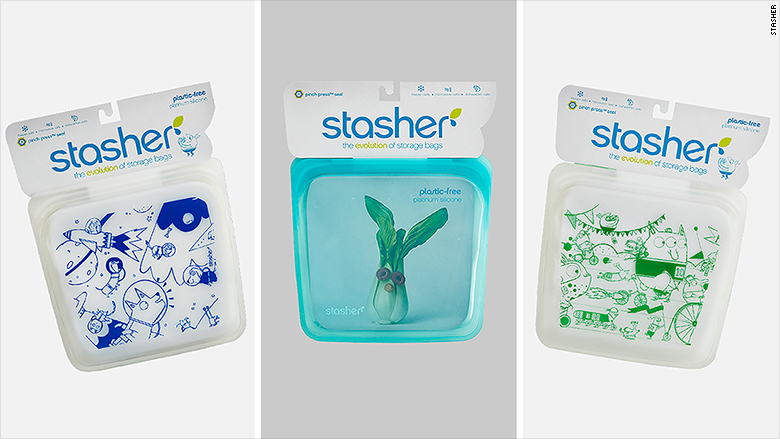 With dry-erase markers, you can scribble notes and labels directly onto the bag's surface. Not feeling creative? The bags also come in fun designs -- think circus, space and monster themes.
Stasher bags will be available online in February and in retail stores in March.
Related: She's $10 million closer to replacing plastic bottles
Nouri has been on a personal crusade for more than a decade to help consumers replace everyday plastic products with safer silicone-based alternatives.
She was partly motivated by her upbringing in Iran.
"My father was a champion wrestler and my mother has a PhD in nutrition," she said. "So I was very conscious about health and nutrition growing up."
Nouri immigrated to the San Francisco Bay Area when she was 10.
"I became somewhat of a rebel," said Nouri. "I was just very creative and wanted to do things my way."
After graduating from UC Berkeley, Nouri took a sales and marketing internship at IBM. "But I always had a little business venture on the side," she said. "People would constantly tell me I was a natural entrepreneur."
Nouri launched her company Modern Twist in 2005. The company makes silicone-based placemats, coasters and a variety of baby items, including bibs, cups and food containers.
"As consumers, we focus more on what we eat," said Nouri, who has three kids. "To me, especially as a mom, it was just as important to evaluate where we are putting our food. I was packing three lunches a day in plastic bags."
Today, Modern Twist is profitable, generates about $10 million a year in revenue, and its products are sold in over 4,000 retailers nationwide.
Related: No really. This pencil grows into a tomato
Nouri said Stasher bags are a natural evolution of her vision for a plastics-free world.
She spent three years and $500,000 researching and developing the silicon sandwich bags. "It was a big investment for us at the time and I nearly went broke," she said.
The silicone bags (which sell for $12.99 to $14.99 apiece) do cost quite a bit more than a box of disposable plastic bags. Still, she's hopeful that the long-term economic and environmental value of the silicone bags will sway consumers to buy them.
In the meantime, Nouri is already planning to expand the Stasher line with other sizes later this year.
"I hope that these bags can become a symbol of how we are rethinking plastic and caring for our planet," she said.