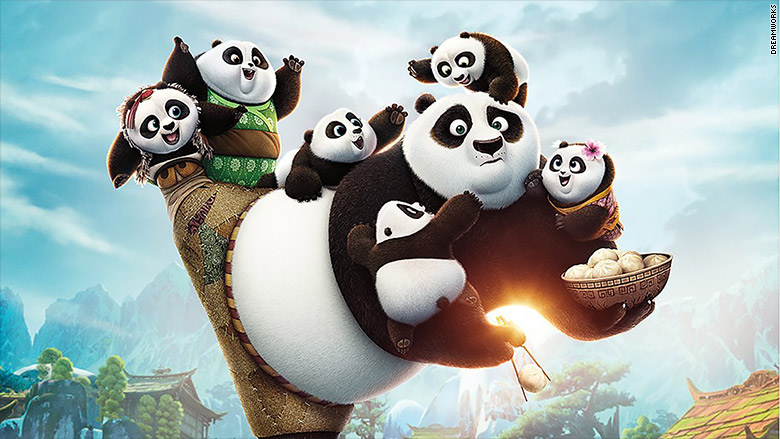 DreamWorks Animation's stock has held up pretty well in this turbulent market. Why?
Three words. Jack Black. China.
"Kung Fu Panda 3" -- featuring Black as the voice of the dumpling loving Dragon Warrior Po -- hits theaters on Friday and experts predict it will overtake another bear movie (Leonardo DiCaprio's "The Revenant") at the top of the box office.
Expectations are pretty high for a good reason.
The first two Kung Fu Panda movies grossed nearly $1.3 billion for DreamWorks Animation (DWA) worldwide according to Box Office Mojo -- and generated countless utterances of the word "skadoosh."
Even though it's been nearly five years since "Kung Fu Panda 2", there was a TV show -- "Kung Fu Panda: Legends of Awesomeness" -- on Nickelodeon to keep Po, Master Shifu and the Furious Five from fading into pop culture oblivion.
But the movie isn't just coming out in the United States this weekend. It's also being released in China. And that could wind up being very big for DreamWorks Animation.
The studio co-produced the movie with a partner named Oriental DreamWorks -- a joint venture it set up in 2012 with these three big players in the Chinese entertainment industry.
Related: IMAX conquered Hollywood. China is next.
China Media Capital is an investment firm that owns a stake in the Chinese subsidiary of big screen movie operator IMAX (IMAX).
Shanghai Media Group is the second largest TV and radio conglomerate in China.
And Shanghai Alliance Investment Ltd is the private equity arm of the Shanghai government.
DreamWorks Animation is making a big bet -- like other Hollywood studios -- on Chinese moviegoers since there seems to be significant demand for U.S. blockbusters.
The latest Star Wars, Fast and Furious, Avengers and Transformers movies were all hits in China. So was Jurassic World.
Related: China's richest man buys Hollywood studio
But "Kung Fu Panda 3" is even more tailor made for China than other American films. It's about a panda. In China. Doing Kung Fu.
It's also a movie targeted mainly at kids -- a market that is growing rapidly in China. One of the country's biggest hits last year as an animated CGI movie called "Monkey King: Hero is Back."
So the nightmare for DreamWorks Animation may be over after a tough couple of years. The studio racked up losses after a series of duds at the box office.
Shares plunged in 2014 and things got so bad that DreamWorks Animation was reportedly in talks to sell itself to toy maker Hasbro (HAS) and Japanese tech/telecom conglomerate SoftBank (SFTBY). Neither deal materialized.
DreamWorks Animation then laid off 500 workers last January and cut back the number of films it would produce each year.
But DreamWorks Animation had a surprise hit last year with "Home" -- its only theatrical release of 2015.
The company has also benefited from a deal it has with Netflix (NFLX) to produce shows based on characters from some of its big franchises -- such as Shrek and How to Train Your Dragon.
Related: Dads are passing down their favorite cartoons to their kids ... on Netflix
Netflix and DreamWorks Animation expanded their deal earlier this year, and it includes more original shows. DreamWorks Animation is producing a revamp of the 80s cult classic cartoon "Voltron" for Netflix.
And DreamWorks Animation is hoping to capitalize on the retro toy trend later this year. Its next movie is called "Trolls." And yes, it's about the dolls with the multicolored, furry hair -- and not people who make nasty comments on Twitter and Reddit.
Wall Street has taken notice. DreamWorks Animation's stock is up nearly 40% in the past year -- significantly better than Disney (DIS), Fox (FOXA), Viacom (VIAB), CNNMoney owner Time Warner (TWX), Comcast (CMCSA) and Lions Gate (LGF).
Sure, DreamWorks Animation may continue to play second fiddle to Disney's Pixar at the box office -- and with critics. But it looks like the worst is behind the studio. Now it just has to live up to the considerable Kung Fu Panda hype -- in the U.S. and China.
Skadoosh!