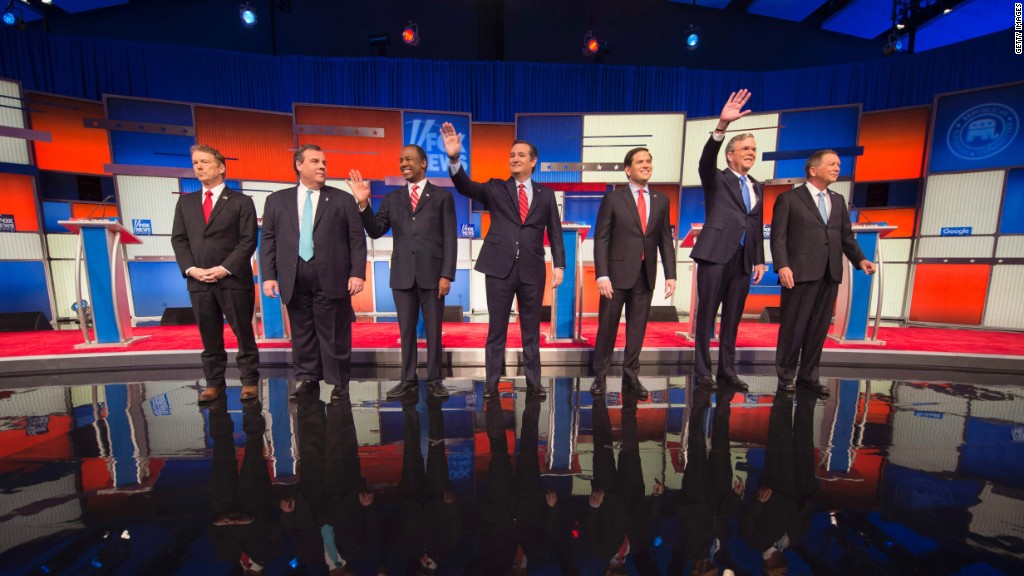 The GOP hopefuls may have railed against Donald Trump in his absence on Thursday night, but some also took a cue from his anti-Fox News playbook.
With his crusade against Fox this week, Trump set a precedent: For the first time, the GOP frontrunner was standing up against a network that has unparalleled influence on Republican voters. On Thursday, Trump even referred to Fox News as the "establishment."
Trump's success in that effort -- which was aided by hard-line conservatives' growing skepticism of Fox News -- seemed to open the floodgates for Trump's adversaries.
Sen. Ted Cruz mocked moderator Chris Wallace for asking other candidates questions that Cruz characterized as "Please attack Ted."
"If you guys ask one more mean question, I may have to leave the stage," Cruz said.
Rick Santorum, who took part in the undercard debate, also took the liberty of criticizing the network for downplaying coverage of his campaign, being too obsessed with Trump and ignoring substantive issues.
Related: Donald Trump and Fox News: A media spectacle
"This debate... wasn't advertised significantly. In fact, the entire hour lead up to this there was no conversation about any of the four people on this debate stage," Santorum said.
"This is what the media has been doing over the past year, trying to segregate and take Iowans out of the process," Santorum said. "The entire lead up to this debate was talking about whether Donald Trump is going to show up for the next debate."
Media criticism has been a feature of the Republican primary debate cycle, but it has usually been leveled at more familiar "mainstream" targets: NBC, The New York Times, The Washington Post. But Trump's willingness to take on Fox News -- and tap into a deep well of far-right resentment against the network -- seemed to give candidates like Cruz the go-ahead to confront the network as well.
Carly Fiorina, also in the undercard debate, said what surprised her the most about running for president was "the chasm, the yawning chasm, between what the national media talks about and what the people of Iowa and the people of this great nation talk about."
Cruz echoed that sentiment in his closing remarks on the main stage when he said, "The media noise will soon be over, and it's time for the people of Iowa to decide."