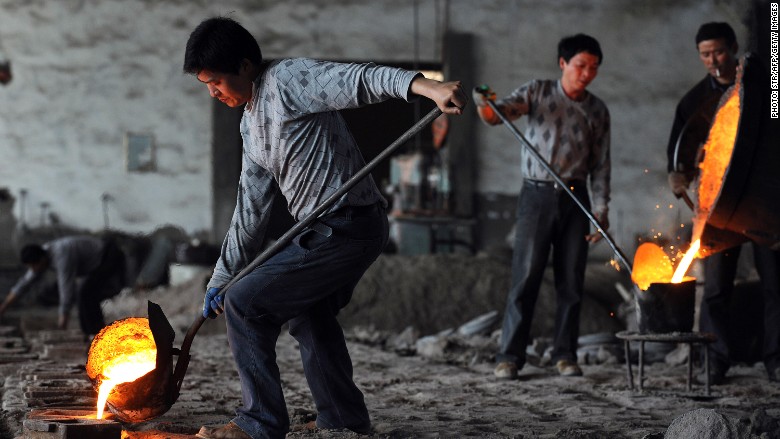 Europe is stepping up its fight against cheap Chinese steel imports in an attempt to save thousands of jobs.
The European Union announced Friday that it would impose new tariffs of up to 13% on Chinese imports. Chinese companies have been accused of selling unwanted steel in Europe for less than it costs to produce and export, suffocating local rivals.
The tariffs, which will come into effect Saturday, are designed to stop the practice and prop up European firms.
China produces half of the world's steel, more than the United States, European Union, Russia and Japan combined.
The country's construction boom of the last decade meant its steelmakers could rely on steadily growing demand at home. But the building bonanza is over, and China's economy is experiencing a broader slowdown.
The World Steel Association said China's demand for steel dropped 3.5% in 2015, and will fall again in 2016.
That means China has a lot of steel it doesn't need. It's flooding onto world markets at prices local producers can't match.
"China should stop exploiting the export channel for its overproduction," said Axel Eggert, the director general of European Steel, which represents regional steelmakers. "If this continues, EU mills will lose further market share, not only in the EU but also in their key export markets."
Related: China's slowdown is killing thousands of steel jobs
Steelmakers around the world have been forced to shut plants because of Chinese dumping.
ArcelorMittal (AMSYF) said last year it was shutting two plants in South Africa and one in South Carolina. Tata Steel cut hundreds of jobs across the U.K. in the fall.
European officials say as many as 40,000 steel jobs have been lost in recent years. The new measures are part of a wider plan to save the industry.
But some producers say the new tariffs are too little too late, and puny when compared with measures taken by the United States.
Gareth Stace, the director of U.K. Steel association called the move "a slap in the face" for British manufacturers of steel bars used to reinforce concrete in the construction industry. He said China had taken more than 45% of the U.K. market in just four years.
"Given that the European Commission always imposes the minimum duties possible, unlike the U.S., then what we end up with are duties that are totally inadequate and may not have any material effect," Stace said.
Global demand for steel has been hit hard by the construction slowdown. World steel production declined 2.8% last year, compared to 2014, according to the World Steel Association.
-- CNN's Chris Liakos contributed to this report.