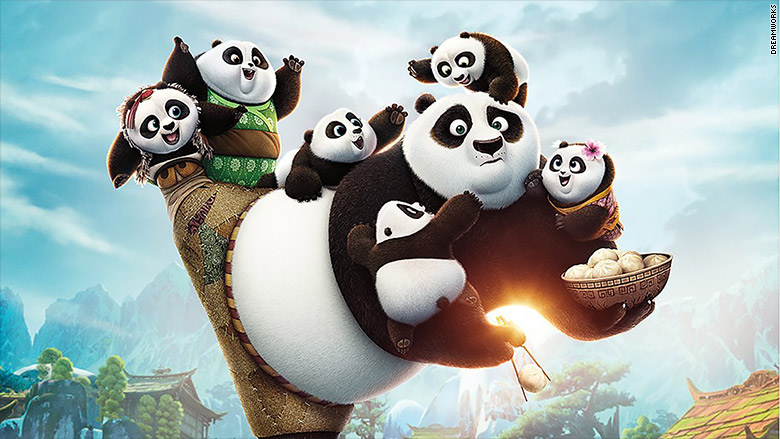 "Kung Fu Panda 3" had some punch at the box office this weekend.
The 20th Century Fox and DreamWorks Animation film brought in an estimated $41 million at the North American box office for its debut this weekend.
That makes the film about the lovable fighting panda Po the third biggest January opening of all time. It came in just behind 2015's "American Sniper" and 2014's "Ride Along."
The "Kung Fu Panda" franchise is one of the most successful animated series in Hollywood, bringing in over $1.3 billion globally since the original in 2008.
The third film has voice talent from Jack Black, Bryan Cranston, and Angelina Jolie.
It's the first "Kung Fu Panda" installment to open in January instead of the summertime. Rentral's (RENT) senior media analyst Paul Dergarabedian thinks that move helped the movie dominate the box office this weekend.
"The 'Kung Fu Panda' franchise was a summer mainstay," Dergarabedian said. "With a smart move to late January, which is known for an over-abundance of adult fare, they capitalized on the pent up need for entertainment at the multiplex for families."
Internationally, the film brought in an estimated $75 million during its opening weekend in five territories including China and Korea, according to 20th Century Fox.
Related: Hollywood makes big bet on China's kids
Fox also grabbed second place at the box office this weekend with "The Revenant" starring Leonardo DiCaprio, which brought in $12.4 million in the U.S. during its fourth weekend of wide release.
And Disney's (DIS) "Star Wars: The Force Awakens" nabbed third with $10.7 million in its seventh weekend.
So far, the seventh installment in the space saga has brought in $895 million domestically and $1.98 billion worldwide at the box office.
"The Force Awakens" should cross $900 million domestically and $2 billion worldwide sometime later this week.