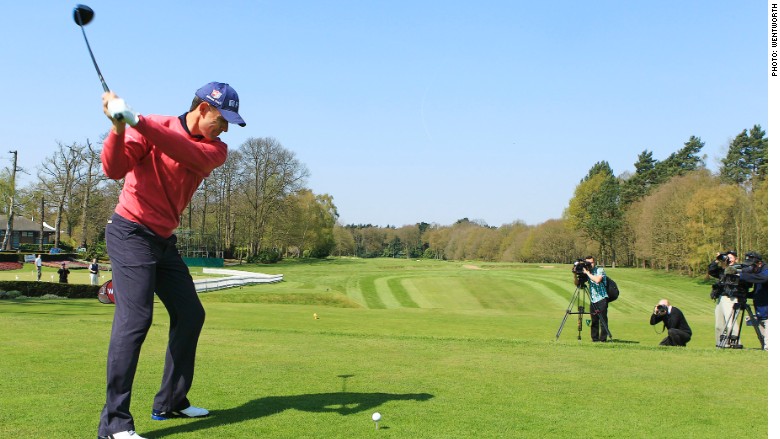 The golfers have come out swinging!
Members of one of Britain's most exclusive golf clubs -- Wentworth -- are taking legal action against the club's new Chinese owner over its plans to double annual membership dues and levy a huge one-off joining fee. Talks between the two sides have broken down.
Beijing-based Reignwood Group, which bought Wentworth in 2014 for a reported £135 million ($193 million), is demanding that 4,000 members reapply for 800 spots and pay £100,000 ($143,000) for the privilege of rejoining.
Golf club members and residents who live on Wentworth's leafy private estate were shocked when they heard last year about the plans. The joining fee is especially difficult to swallow since new members previously paid about £15,000, a spokesperson for the members told CNNMoney.
"It is an absolute tragedy that the situation remains so antagonistic whereas a fair and reasonable solution could easily have been found," said Eric Leon, chairman of the Wentworth Residents Association, which announced the legal action Sunday.
"Reignwood appears intent on clearing out the membership, restricting accessibility to the club ... and thereby changing the character of a great golfing institution," he said.
Related: How to vacation like an aristocrat
Wentworth is a one-hour drive from central London and is home to the annual PGA Championship.
Reignwood said its actions are legal and it intends to proceed with its membership plans.
"Our ambition is to return Wentworth Club to its position as one of the world's premier private golf and country clubs," said Reignwood Group executive president Songhua Ni. "To achieve this, all sides agree we must invest heavily there."
Members agree the club needs money, but they claim the planned fee hikes are unreasonable, won't drive sufficient revenue, and constitute a breach of contract.
Reignwood said it plans to invest £10 million ($14 million) into the club over the next two years.
Related: Would you trust China with your nuclear power?
The founder of Reignwood is billionaire Chanchai Ruayrungruang, a Thai-Chinese national.
Reignwood owns a mixture of finance, real estate and leisure assets, including the Pine Valley Golf Club & Resort near Beijing. It also recently bought the Princeville golf resort in Hawaii.