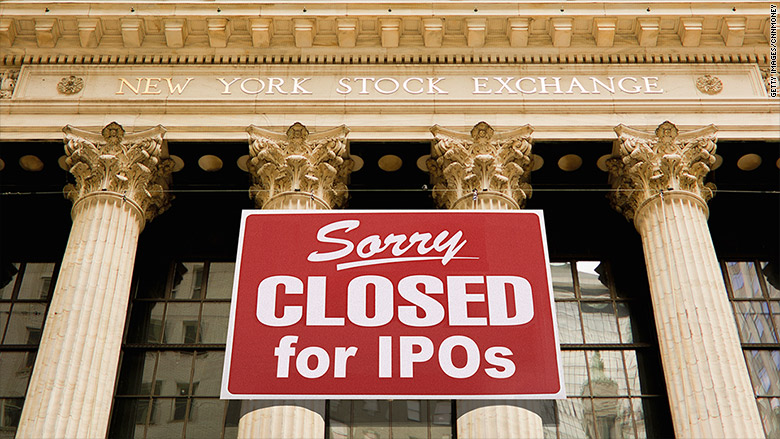 Someone forgot to remove the "Closed" sign hanging outside the IPO market this New Year's.
Exactly zero companies have gone public so far this year. January was the IPO world's first month of complete silence since the market chaos during September 2011, according to market intelligence firm Ipreo.
It's not that companies don't want to raise money from the public. Several attempted, but later scrapped their IPOs due to the turbulent conditions in financial markets.
The IPO drought provides stark evidence of Wall Street's lack of appetite these days for even a whiff of risk.
"Investors are nervous," said Kathleen Smith, principal at Renaissance Capital, which manages IPO-focused exchange-traded funds. "They don't want risk right now. A year ago these companies could have gone public."
In many ways, the shutdown of the IPO market makes perfect sense. If stable stocks with fat profits like MasterCard (MA) and Walt Disney (DIS) are down 11% this year, how can money-losing startups stand much of a chance?
The Dow has plunged more than 1,000 points this year and the Nasdaq -- home to many young companies -- is down almost 9%. Investors are way more focused on preserving capital these days. That's why gold is 2016's most beloved asset, so far at least.
Related: Ouch. 93% of investors lost money in January
Not a single company has gone public in the U.S. since the December 17 debut of Yirendai, a Chinese peer-to-peer lender.
Several companies that have nixed their IPO plans since then have acknowledged the trouble on Wall Street. For instance, on January 20 Elevate Credit, a tech company hoping to raise over $75 million, said it's temporarily delaying its offering due to "current market volatility." That turned out to be a wise move considering the Dow plummeted as much as 565 points that day.
"There's too much uncertainty in the market right now for young companies that don't have a lot of revenue," said Tim Loughran, a finance professor at the University of Notre Dame.
"It's a pretty bearish sign on the economy when we see an entire calendar month without a single IPO. That's pretty bad," he said.
It doesn't help that investors have been burned by recent IPOs that looked sexy but quickly fell out of favor. Twitter (TWTR), FitBit (FIT), GoPro (GPRO), Etsy (ETSY), Box (BOX), Twitter (TWTR), El Pollo Loco (LOCO), Party City (PRTY)are all stocks that have recently fallen below their IPO price.
The Renaissance Capital IPO ETF, (IPO) which tracks recently-public companies, has plunged 17% so far this year.
Related: Gold is 2016's most beloved asset
But U.S. markets have calmed a bit since late January -- and some young companies are now feeling brave enough to test the waters.
Several companies in the IPO pipeline are planning to go public this week, including a pair of promising yet unprofitable biotech companies.
The first is Editas Medicine, a gene-editing company that is hoping to raise $100 million on Tuesday night, according to Ipreo.
BeiGene, a biotech company fighting cancer in China, is also trying to raise $127 million on Tuesday or Wednesday.
Smith called the offerings "critical icebreakers" and said it'll be telling how these deals get priced.
"For an IPO to successfully get to 'escape velocity,' it will need to be priced at a much higher discount than normal," she said.
Related: Twitter surges on yet another takeover rumor
Recent deals have shown that to be true. Square (SQ), the payments company founded by Twitter CEO Jack Dorsey, was even forced to price its November IPO below its private-sector valuation.
Today, Square is trading well below its $9 IPO price.
"We're just in a market where you've got to be a very strong company to go public," said Smith.