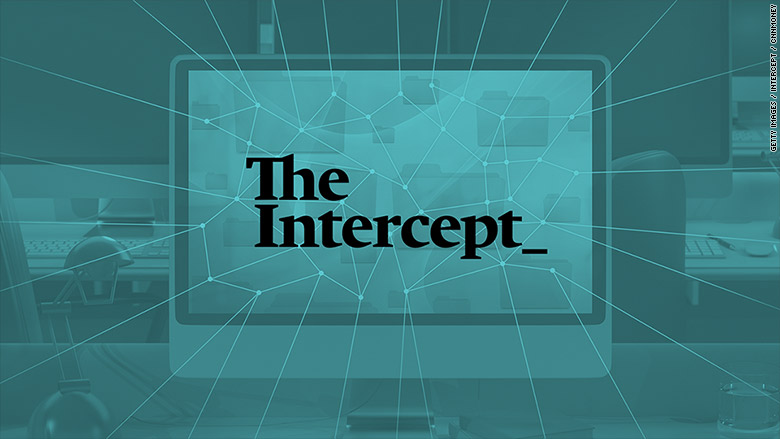 The Intercept, the online news publication that has published National Security Agency documents leaked by Edward Snowden, revealed Tuesday that a former reporter fabricated quotes and impersonated people during his time at the website.
In a note to readers, editor-in-chief Betsy Reed detailed a trail of deception allegedly left behind by Juan Thompson, who worked at The Intercept from November 2014 until January 2016.
Reed said that an internal investigation found three instances in which Thompson attributed quotes to "people who said they had not been interviewed."
Thompson "went to great lengths to deceive his editors," Reed said, stating that he even created a fake email account to impersonate a source. Reed said Thompson also created a fake email account in her name.
According to Reed, Thompson ultimately admitted to creating fake accounts and fabricating messages, but "stood by his published work" and "did not cooperate in the review."
Related: Controversial coup: Sean Penn and Rolling Stone land El Chapo interview
Thompson challenged Reed's account.
"Betsy is lying about my admission to fabricating quotes," he wrote in an email to CNNMoney. He also said his ability to defend himself was hampered because he was battling cancer.
The Intercept has posted corrections on four of Thompson's stories and retracted another.
"The Intercept deeply regrets this situation," Reed wrote. "Ultimately, I am accountable for everything we publish. The best way we can see to maintain the trust of readers is to acknowledge and correct these mistakes, and to focus on producing journalism we are proud of."
Related: A 'second Snowden' leaks to the Intercept about 'drone wars'
The Intercept launched in 2014 under the auspices of billionaire eBay founder Pierre Omidyar. The site, which is the online home of Pulitzer Prize winner Glenn Greenwald, has reported extensively on the government's intelligence apparatus and other national security issues.
Related: Notorious reporter Stephen Glass repays magazine for 1998 story
The retracted story, originally published in June of 2015, quoted an individual named Scott Roof, whom Thompson identified as a cousin of Dylann Roof, the suspected killer in last year's massacre at a black church in Charleston, S.C.
"After speaking with two members of Dylann Roof's family, The Intercept can no longer stand by the premise of this story," reads an editor's note appended to the top of the piece. "Both individuals said that they do not know of a cousin named Scott Roof."
In the retracted story, the phony cousin was quoted as saying that Dylann Roof "kind of went over the edge" after a love interest started dating a black man.
Thompson provided an email that he sent to Reed in which he says that he's "been undergoing radiation treatment for testicular cancer."
He said he "had a habit of writing drafts of stories, placing the names of ppl [people] I wanted to get quotes from in there, and then going to fetch the quotes."
Related: Rolling Stone fights libel suit stemming from bogus rape story
"Was it sloppy? Yes? But I'm a cub reporter and expected a sustained and competent editor to guide me, something which I never had at your company," Thompson said in the email.
He continued: "If I couldn't obtain a quote from the person I wanted, I went somewhere else, and must've forgot to change the names -- clearly. Also, Yes, I encouraged some of my interviewees to use another name; they're poor black people who didn't want their name in the public given the situations and that was the only was (sic) of convincing them otherwise."