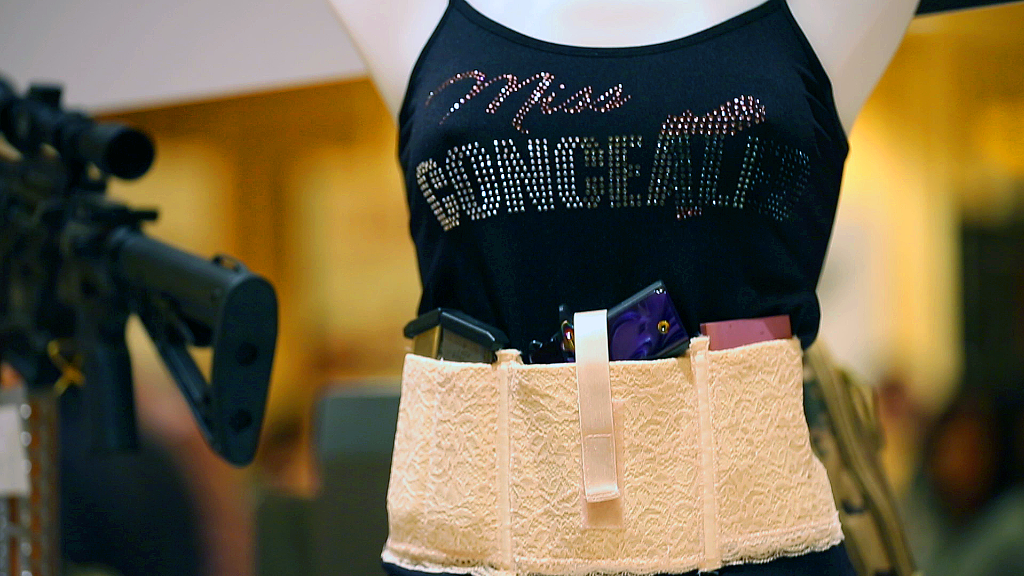 Women are driving the gun industry to crank out new guns just for them, including pistols tailored for smaller hands and handbags with holsters.
Women are the fastest growing demographic in the gun industry, pushing background checks to a record high last year. Motivated by fear in what seems to be an increasingly dangerous world, they're buying guns for self-defense.
They're not just buying handguns that are pink and purple. They're buying guns that are easily carried and concealed. Concealed carry permits are on the rise, and women are signing up in increasing numbers.
Gun manufacturers are responding by streamlining their pistols to easily be concealed and to fit feminine hands.
"Women have always been around in the industry," said Glock spokeswoman Kie Wagner at an outdoor gun range in the desert of Boulder City, Nevada. "We've always been here; we've always been shooting."
But the fast pace of their growing enthusiasm is something new, and it's demanding the attention of gunmakers like Glock.
Wagner displayed handguns from Glock's Slimline series on a shooting bench, including the newly-released G36, which the company was showcasing at the SHOT Show, the annual convention of the National Shootings Sports Foundation.
Related: How women are reshaping the gun industry
The palm-sized G36 is only 1.13 inches wide. While the larger Glocks preferred by cops can carry 15 rounds or more, the subcompact Slimelines only carry seven. They're designed for concealed carry and self-protection and have "single stack" magazines that allow for a skinny design that tucks easily into clothing.
Also at the range, Gary Ramey, a competitive shooter and ex-Beretta employee behind the Georgia gun startup Honor Defense, was demonstrating his newly launched pistol, the Honor Guard.
Ramey said he consulted with women while engineering the Honor Guard, which was tailored to meet consumer demand for concealed carry. It's his first and only product.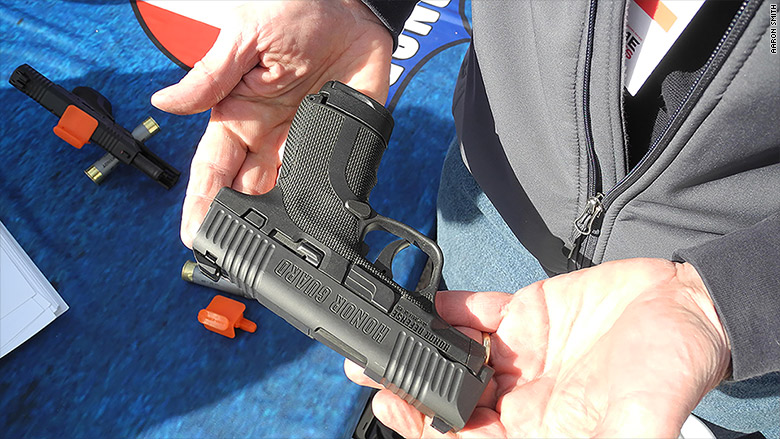 The venerable gun maker Smith & Wesson (SWHC) has also launched new products to catch the rising tide of concealed carry.
"We've seen a dramatic increase with women in handgun shooting," said Smith & Wesson marketing director Paul Pluff. "We've gone across the United States and we've seen a lot of states pass concealed carry laws, so it has helped drive sales."
Pluff allowed reporters to shoot an M&P 9 Shield compact pistol with a laser sight fixed to the front of the trigger guard. The company pairs an even smaller gun, the subcompact Bodyguard, with a sight made by Crimson Trace for concealed carry. The sights place a red or green dot on the target to help with aim.
Related: How the Iron Pipeline funnels guns into cities with tough gun laws
Crimson Trace is a company based in Oregon that's been making laser sights for more than 20 years. Their products are sometimes featured in action movies, including the blockbuster "Jurassic World," where they were used to hunt dinosaurs.
"We know that the concealed carry market is very robust right now and that's why we get demands for products like this," said Crimson Trace spokesman Michael Faw.
Crimson Trace has launched new laser sights to fit trigger guards on compact pistols from Glock, Ruger (RGR), Kimber, Remington and Taurus. The company also makes holsters to fit the guns with sights attached.
Faw said that people who buy his products "know that America's become a little more dangerous place to be living, so concealed carry firearms are very popular. That's what people are buying them for, self protection."
-- Abigail Brooks contributed to this report.