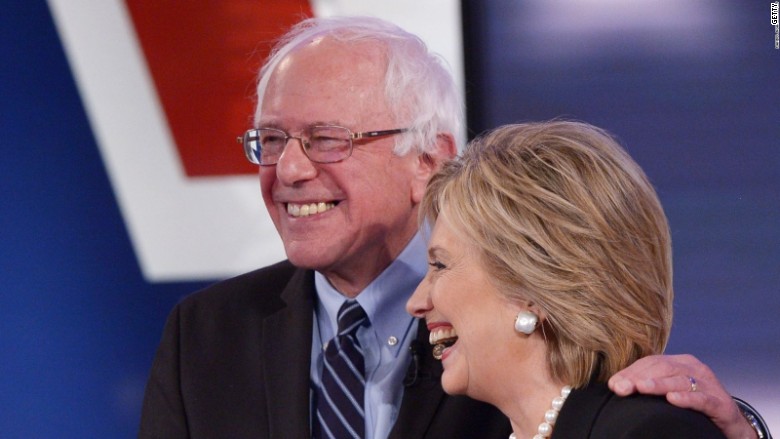 Hillary Clinton and Bernie Sanders have agreed to add four more debates, including one this Thursday in New Hampshire just days before that state's primary.
The decision expands the total number of Democratic debates from six to ten, and suggests both campaigns are prepared for a drawn-out primary battle that will extend at least until May.
The first additional debate will take place in New Hampshire on Thursday. The campaigns have also agreed to a March debate in Flint, Michigan, and two more debates in April and May. The May debate is likely to take place in California.
What remains undecided is where the Democrats will hold the April debate. The Clinton campaign is pushing for a debate in Pennsylvania, given the state's importance in the general election. The Sanders campaign wants to hold that debate in Brooklyn, New York.
Related: Democratic candidates defy party and consider new debate
Sanders spokesperson Michael Briggs confirmed that the campaigns had agreed to the four debates. When asked to confirm a Washington Post report that put the April debate in Pennsylvania, he said his campaign "would still also like one in New York."
The Clinton campaign did not immediately respond to a request for comment.
DNC Chairwoman Debbie Wasserman Schultz announced the news of the additional debates in a statement on Wednesday.
Sign up for the Reliable Sources newsletter
"Having our candidates in agreement on their desire to add debates to our sanctioned schedule, the DNC has sanctioned an MSNBC debate on February 4 at the University of New Hampshire in Durham," Wasserman Schultz said.
"The candidates have also agreed to participate in three newly scheduled DNC sanctioned debates to be held in addition to the February 11 PBS News Hour, and March 9 Univision debates already planned. The first of these new debates is confirmed to take place in Flint, Michigan on March 6th, with the remaining two taking place in April and May with times and locations to be determined. We will continue to work closely with both campaigns as we finalize the remaining details."
Whatever the venues, the additional debates are a boon to Democrats who believed the initial primary schedule was too limited. Both the Sanders and the Martin O'Malley campaigns had criticized the DNC for holding just six debates, and for holding many of them on weekends.
Thursday night's debate will take place at the University of New Hampshire in Durham. It will be moderated by Chuck Todd and Rachel Maddow.