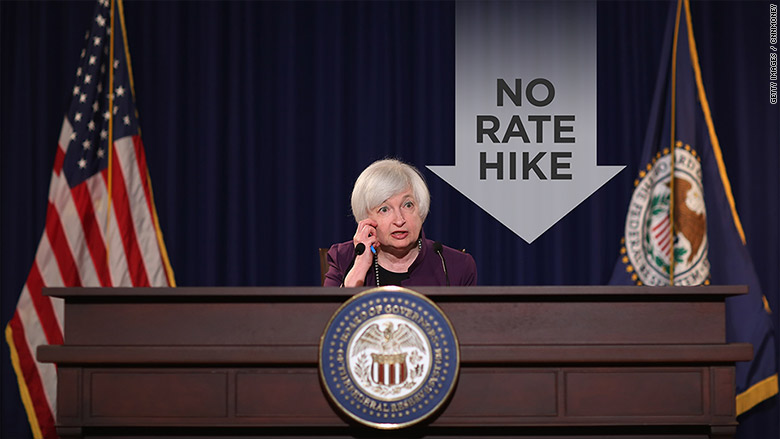 Janet Yellen and the Federal Reserve are on another planet.
That's the message from global investors who are sending the Fed a big distress call to come back to earth.
The Fed is still predicting four interest rate hikes this year, but the market now forecasts zero hikes in 2016.
The closely watched Fed Futures market now has a nearly 60% probability of no rate hikes at all this year.
It's a dramatic U-turn from only a month ago when the market was pricing in a 75% probability the Fed would increase rates at least once in 2016.
Related: Will America's economy get dragged into recession?
A lot has changed since January 1st as stock markets around the world went on a wild (downward) ride. Investors just don't think the U.S. economy, let alone the global economy, can stand more interest rate increases.
"The price of oil continues to fall and the dollar is still soaring. The global economy continues to weaken, and all these developments clearly are weighing on U.S. economic growth," wrote Ed Yardeni, president of Yardeni Research, in his morning note.
Even the Fed is starting to sound a little doubtful that it can stick to its plan.
"Things have happened in financial markets and in the flow of economic data that may be in the process of altering the outlook for growth," Fed vice chairman Bill Dudley told MarketWatch on Wednesday.
Yellen testifies before Congress next week and will likely be pressed hard about the Fed's plans.
Related: Apple CEO warns of unprecedented 'extreme conditions'
The Fed did a tiny 0.25% rate hike in December -- its first increase in nearly a decade. While many believe the U.S. economy remains solid, there's growing concern that the rest of the world is deteriorating and may drag down U.S. growth too.
While the Fed debates whether to raise interest rates again, the European Central Bank and Bank of Japan have both slashed interest rates into negative territory in an attempt to jumpstart those economies. It makes the Fed's job even more complicated.
"The markets are convinced that things are terrible, that the glass is half empty -- or empty. This simply flies in the face of the economic fundamentals in the U.S.," wrote Greg Valliere, chief strategist at Horizon Investments, in a note Wednesday.