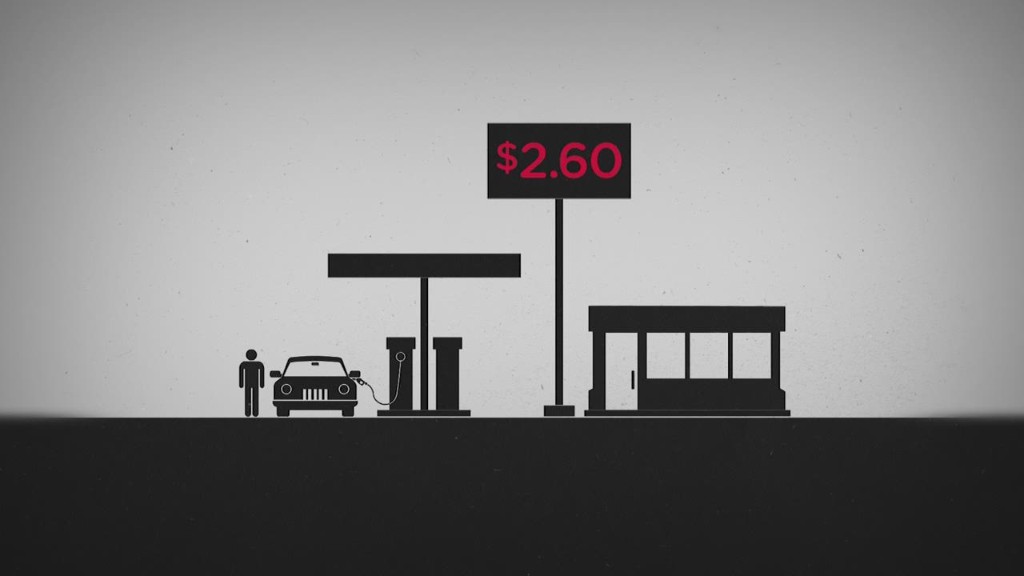 Here's a crude reality: Big Oil's fat dividend payouts are no longer untouchable.
ConocoPhillip (COP) slashed its coveted dividend by two-thirds on Thursday due to the dramatic crash in oil prices to $30 a barrel. The painful move makes Conoco the first big American oil producer to take a knife to its dividend.
Up until this point, oil companies have coped with the pain of cheap oil by laying off workers, taking on more debt and selling off assets. They've long resisted dividend cuts because generous payouts lured many investors to these stocks -- even during these tough times.
But Conoco's move shows how energy company dividends are under siege as cheap oil chokes off once-reliable cash flows.
"There's no such thing as a safe dividend in the energy sector right now," said Spencer Cutter, a credit analyst at Bloomberg Intelligence. "If oil stays at $30 a barrel for another 12 months, all bets are off -- for everybody."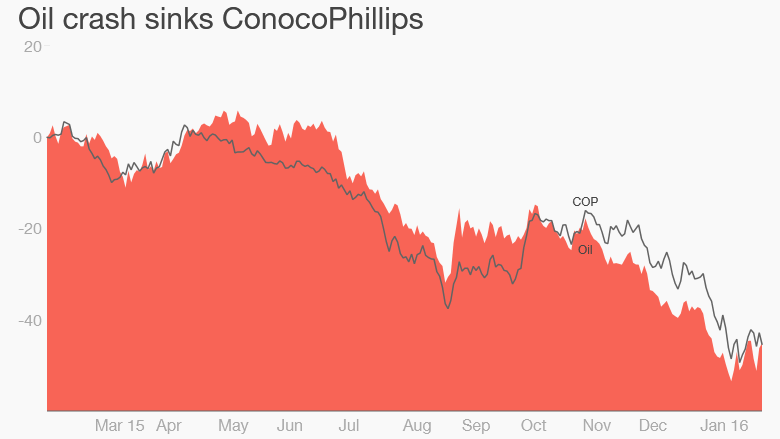 Conoco is clearly under serious financial pressure. The Houston company's losses swelled to $3.5 billion in the fourth quarter from $39 million the year before.
Related: U.S. running out of space to store oil
Dramatic dividend cut
The red ink forced Conoco to ax $1.3 billion from its capital spending budget in 2016. But that wasn't enough -- it also slashed its dividend to 25 cents from 74 cents a share.
Ryan Lance, Conoco's CEO, called the move "difficult" yet "prudent" given the fact that the company doesn't know how far oil prices will fall -- nor how long they'll stay this low.
"Cutting is probably the right thing to do as opposed to taking on more debt and risk future growth," said Allen Good, an energy analyst at Morningstar.
The Conoco move will lower its dividend yield from nearly 8% to just under 3%. That's a big deal because the fat dividend payout had been the reason some investors were still holding onto the stock. Shares of Conoco slumped 4% on Thursday to $37.75, leaving them down by nearly half over the past year.
"We are in a new environment," said Cutter, who added that CEOs must decide whether to preserve capital and use it to buy up assets on the cheap.
Other energy companies have already succumbed to the dividend pressure. Last month Noble Energy (NBL), a smaller exploration and production company, cut its dividend payout by 44%, while Italy's Eni (E) slashed its dividend last year. Even Kinder Morgan (KMI), a pipeline company that is supposed to be less vulnerable to oil swings, lowered its dividend in December by 75%.
Related: Oil-rich Venezuela is now importing U.S. oil
Even Big Oil is under pressure...
Now investors are wondering if industry heavyweights ExxonMobil (XOM) and Chevron (CVX) will follow suit.
Chevron, which reported its first quarterly loss since 2002 last week, has signaled it's still committed to the dividend. But Fadel Gheit, an Oppenheimer energy analyst, recently told CNBC he thinks Chevron and other big oil companies will eventually have to touch their dividends too.
Of course, it's important to remember that unlike Conoco, most Big Oil companies have very strong balance sheets, high credit ratings and diversified business models. Conoco has been hurt by the loss of Phillips 66 (PSX), the refining business that it spun off in 2012. Refining actually does better when oil prices are cheap, padding the profits of Chevron, Exxon and other majors.
Exxon is showing early signs of cracking. For the first time in 15 years, the oil giant said this week it won't buy back stock to return cash to shareholders. Standard & Poor's also warned this week it could remove Exxon's perfect AAA rating.
Related: ExxonMobil earnings plunge
Yet Brian Youngberg, senior energy analyst at Edward Jones, thinks the dividends of Exxon, Chevron, BP (BP) and Royal Dutch Shell (RDSA) are safe -- for now at least.
"It's the last thing they will cut," he said, adding they'd prefer to take credit ratings downgrades.
Cutter, the Bloomberg analyst, isn't that certain.
"It's unlikely Exxon will cut -- but the possibility isn't zero," he said.