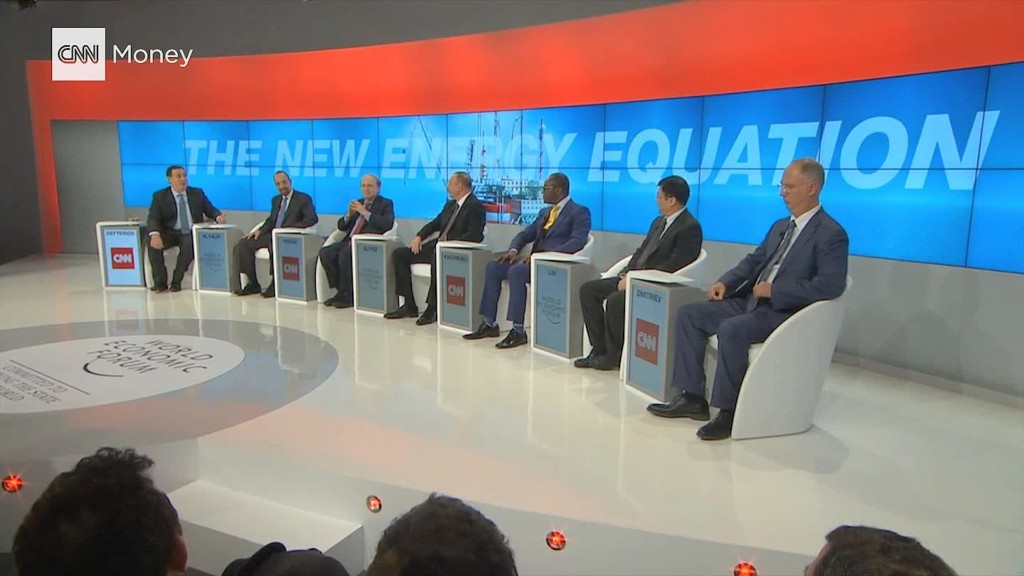 Venezuela is lobbying hard for OPEC and other oil producers to discuss cutting production but an emergency meeting still appears some way off.
The cost of a barrel of crude soared last week after Russia said that OPEC and non-OPEC countries were considering a 5% output cut across the board. And there are signs that OPEC powers such as Saudi Arabia may be willing to act to stabilize the oil market.
A senior Gulf source has said that "all options are on the table."
But getting agreement on a cut within OPEC, let alone one involving countries such as Russia and Mexico, is clearly easier said than done.
The task of trying to round up all the players has fallen to Eulogio Del Pino, Venezuela's new oil minister and president of state oil giant PDVSA.
Venezuela was already in crisis before oil prices began to crash in the middle of 2014. Now its economy is in meltdown. Little wonder it's leading the lobbying.
Del Pino is visiting Russia, Iran, Qatar and Saudi Arabia this week to see if there's support for an emergency meeting. The frantic round of oil diplomacy has other players too: Russian Foreign Minister Sergei Lavrov talked oil with Abu Dhabi's crown prince earlier this week.
Lavrov said a formal meeting between OPEC and other oil producers could be called "if everyone wants it."
Madeleine Albright: Saudis won't budge on oil
A spokesman for Iran's Supreme Leader Ali Khamenei, while in Moscow Wednesday, said cooperation was vital at this juncture.
"Our position is that such countries like Iran, Russia, Venezuela and Iraq ... should have more contacts and consultations on the energy market," said Ali Akbar Velayati.
Two weeks ago, during a CNN panel debate at Davos, a senior Saudi official laid out what could be described as a "carrot and stick" approach.
Saudi Aramco chairman Khalid al-Falih said his country would not reduce output to make space for others, a thinly-veiled reference to regional rival Iran who is eager to add one million barrels per day to its production by the end of this year.
He also stated bluntly that with the lowest cost production in the world, the Kingdom could live with low oil prices "for a long, long time."
But he also held out the possibility of action.
"If there are short term adjustments that need to be made and if other producers are willing to collaborate, Saudi Arabia will also be willing to collaborate," al-Falih said.
Related: U.S. running out of space to store oil
Senior Gulf sources make clear that the idea of a 5% cut is not a proposal authored by Saudi Arabia, but that the Kingdom would not stand in the way of a deal.
So where does this leave the oil market? Investment banking giant Goldman Sachs, which has been one of the most bearish firms when it comes market oversupply, said it's too late for the major players to save oil anyway.
Goldman believes that with production outstripping supply by about 1.5 million barrels a day, Brent crude futures will bust through the recent 13-year low of some $26 a barrel. Morgan Stanley says Brent could end 2016 at $29 a barrel, $5 below where the market is today.
Saudi Arabia's strategy of flooding the market with oil to force out rival producers in the U.S. and elsewhere may well work, but it looks likely to take at least a year longer than anticipated.