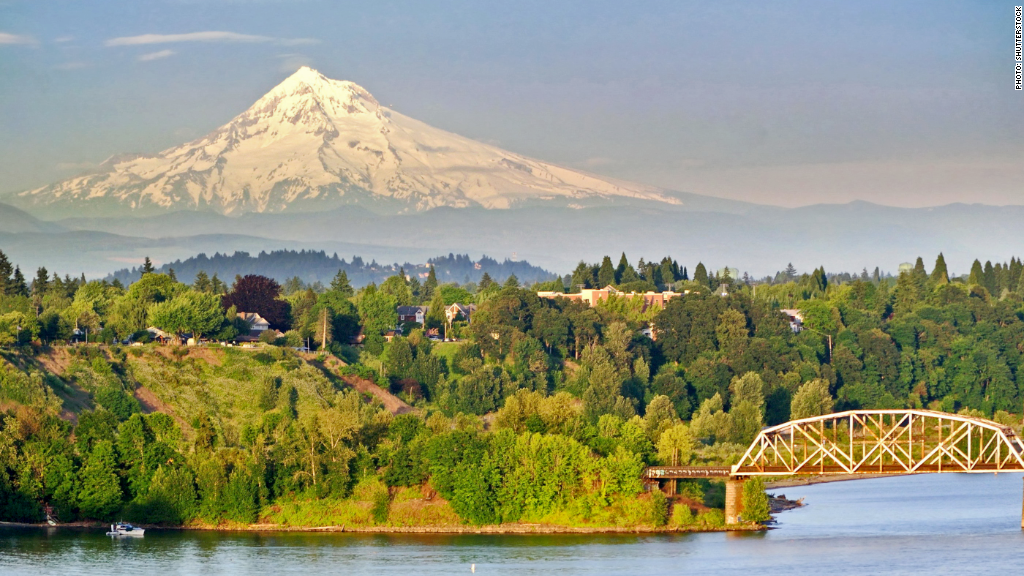 Everyone wants to move to Portland, Oregon. But the more popular it gets, the less affordable it becomes.
Portland has a lot to offer: Drive 90 minutes west, you're at the beach. Head the other way, and there's a snow-capped mountain. It's got a thriving food and wine scene, a burgeoning tech sector and the weather is temperate.
Those selling points are not lost on the rest of the country -- especially those from California.
Oregon was the most popular state to move to last year, according to moving company United Van Lines. And a quarter of those people came from The Golden State.
"It used to be that if you were out-of-state you were an anomaly," said Jennifer Johnston, who is a Portland native and principal broker at Premier Property Group. "Now, if you are from here, you are an anomaly."
Related: Is your city the next Portlandia?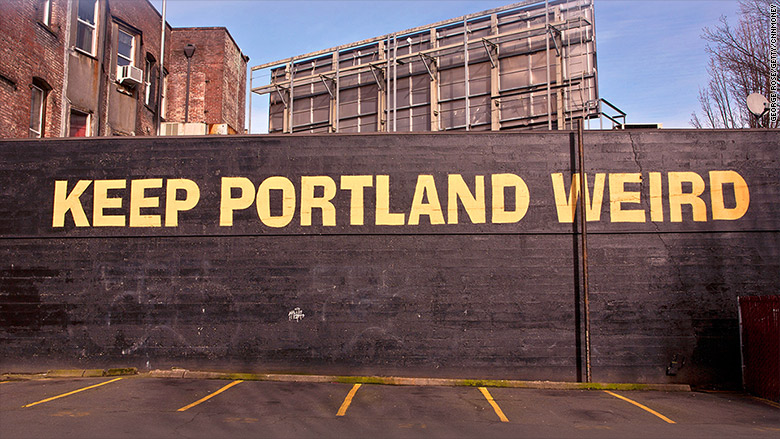 Portland home prices jumped 11.1% between November 2014 and 2015 -- the biggest increase in the country. Rent prices also went up 13.7%, according to Zillow.
The median home price in Portland is now $345,500. In San Francisco, it's $1.12 million.
But wages haven't kept pace. Real estate agents said many new residents have high-paying jobs that let them work remotely.
"They maintain the salaries from where they use to live ... and those salaries -- especially those having to do with software, engineering and development -- happen to be higher than what most companies pay in Portland," said Alyssa Isenstein Krueger, a real estate agent at Living Room Realty.
Related: Mortgages are still getting cheaper
Tight inventory and rising home prices make it tough for locals to compete.
"For people in Portland, it feels like the city is getting away from them," said Nick Krautter, a real estate agent from Keller Williams Portland. "For two school teachers making $70,000 a year, it's tough for them to buy anything for over $300,000. But for people coming here with millions, it's a bargain."
Krautter worked with a client last year who sold his home in Silicon Valley for $4 million and was considering buying two 12-unit apartments in Portland.
All-cash offers are prevalent, and tend to come from new residents. "People are making crazy offers ... it starts to skew the market in what houses should be selling for," Johnston said.
Bidding wars have skyrocketed, with some homes selling for $150,000 above the list price, according to real estate agent Rachel Freed at Urban Nest Realty. Now, when she has a client with a $550,000 budget, they consider homes priced around $450,000 in order to compete.
Developers are cashing in on the housing crunch by buying properties and replacing them with bigger homes or large multi-family rental units, which can ultimately change the feel of the neighborhoods, said Isenstein Krueger.
She's also a member of Stop Demolishing Portland, a group of Portland residents trying to preserve the city's character and affordability by preventing older homes from being torn down.
"These developers aren't from the neighborhoods," she said. "The new homes tend to be way bigger than the ones surrounding it, yet you aren't seeing a lot of families moving into these homes."
Related: The most innovative cities in America
The new buildings are significantly taller and some have 800-1,000 units compared to what used to be 10-12 units, according to Krautter.
The frustration of long-time residents is starting to show. In September, "no California" stickers were placed on some For Sale signs. The stickers were an outline of the state with a red slash through it.
Traffic and parking in the city has also gotten worse and some residents have lost the sunny backyards they used to have. "These new buildings are much taller than what people are used to," said Isenstein Krueger.
She worries that the city's changing landscape and rising home prices will make Portland lose its charm.
"It's becoming a city that is not recognizable for folks who have lived here for more than a year," said Isenstein Krueger. She said a new tall building has earned the nickname "sore thumb" among some residents.
"People are terrified that we are going to turn into San Francisco."