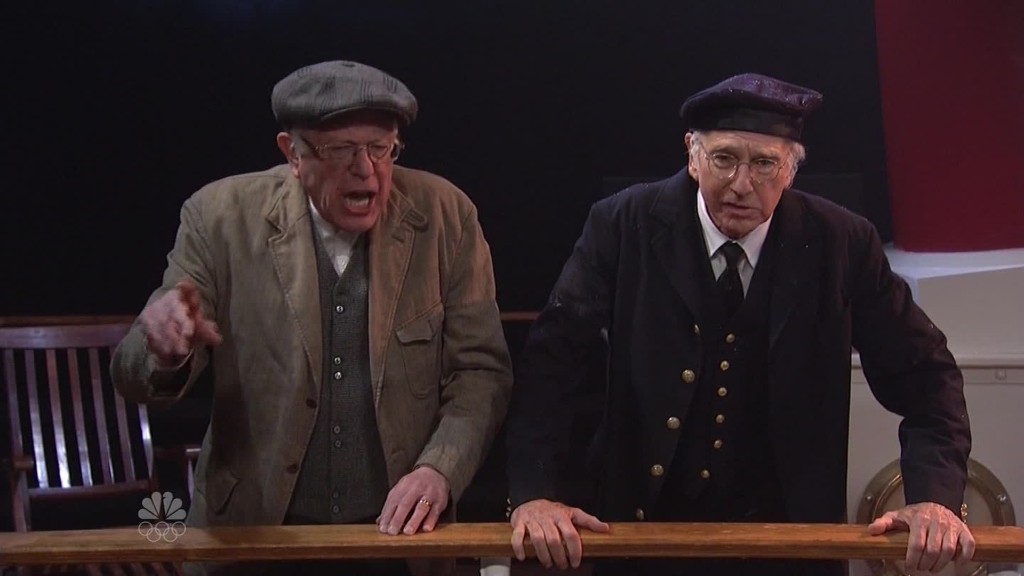 "Saturday Night Live" finally proved that Bernie Sanders and Larry David aren't the same person.
The Democratic presidential candidate appeared alongside Larry David in a sketch that found the two on the Titanic.
David's character argued that women and children shouldn't be let off the sinking ship first, and got into argument with Sanders' character Bernie Sanderswitsky.
"I hate to pull this, but my father is rich... technically my life is worth more than all of yours put together," David said.
Sanderswitsky fired back.
"I am so sick of the 1% getting this preferential treatment," Sanders said as he arrived on the set to big applause. "Enough is enough! We need to unite and work together if we're all going to get through this."
"Sounds like socialism to me," David said. "Democratic socialism," Sanderswitsky corrected him.
However, the standout Sanders sketch of the night was "SNL's "Bern Your Enthusiasm," which was a riff on David's hit HBO show.
The sketch had David once again impersonating Sanders as voters cussed him out for refusing to shake a woman's hand after she coughed on it and balking at helping a car crash victim. Those people later turn out to be key to his slim loss to Hillary Clinton in the Iowa caucus.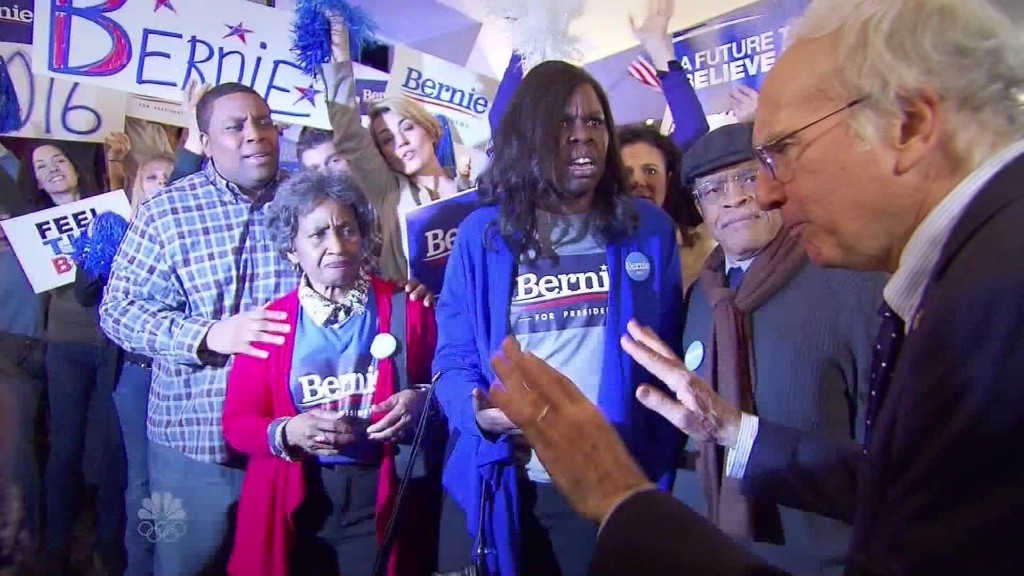 Sanders appeared again with David to introduce the show's performing artist, "The 1975."
"So, Bernie, how's things going up in New Hampshire?" David asked the candidate.
Taking a line right out of David's book, Sanders responded, "Well, it's pretty, pretty, pretty, pretty good."
Related: Hillary Clinton does Trump impression on 'SNL'
To mark his appearance on the show, Sanders' Twitter account changed its avatar to a photo of David playing the candidate from earlier in the season.
Sanders' cameo comes just days before the New Hampshire Democratic primary. He is the latest candidate to take the "SNL" stage.
To premiere the season, Sanders Democratic rival, Hillary Clinton, played Val the Bartender alongside her "SNL" counterpart, Kate McKinnon.
Donald Trump was also on "SNL" this season, but the GOP frontrunner didn't just appear, he hosted the show in November.