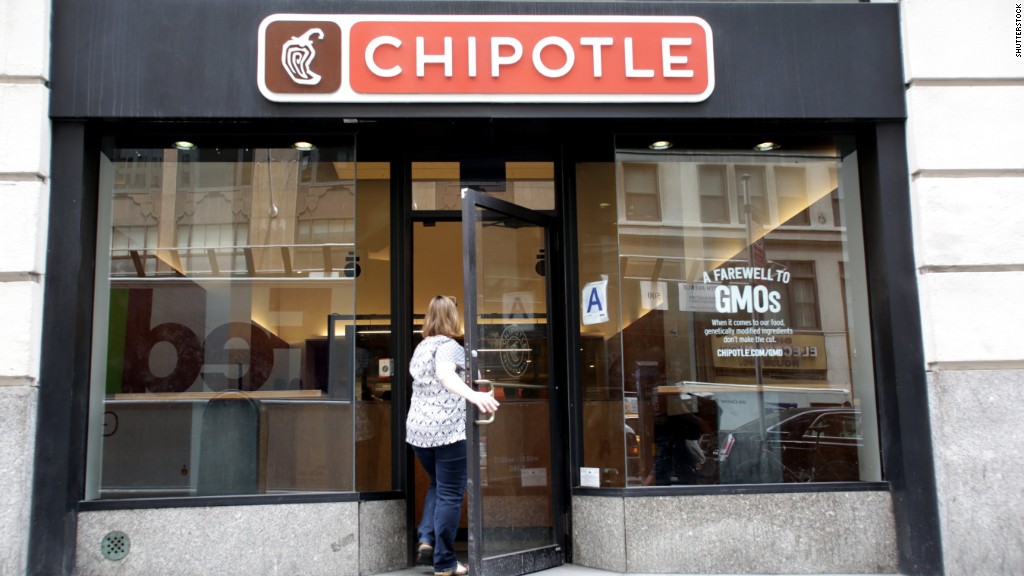 Now that Chipotle's E. coli is outbreak officially over, the company is temporarily shuttering all its restaurants in order to keep it that way.
Chipotle (CMG) is closing all of its stores nationwide for four hours Monday to hold a company-wide staff meeting about food safety. The meeting is slated to run from 11 a.m. to 3 p.m., and CEO Steve Ells will field questions from employees. The company will also live-tweet and Periscope the meeting.
The meeting will go over an improved "farm-to-fork" food safety program, which the chain implemented in January. It includes paid sick leave to make sure employees will stay home when they're sick, DNA-based testing of ingredients before they're shipped to restaurants, and some changes in food preparation protocols.
Those changes include washing and cutting tomatoes and romaine lettuce and shredding cheese in central kitchens instead of individual restaurants. And the restaurants are now blanching avocados, onions and limes. They're are also implementing new ways marinating chicken and steak.
Related: Chipotle profits tank after E. coli scare
The meeting will take place at the chain's headquarters in Denver and will be broadcast nationwide.
The Centers for Disease Control announced on Feb. 1 that the outbreak that started in July "appears to be over."
Related: Can Chipotle recover in 2016?
But the damage was already done. About 500 people got sick last year, including an entire basketball team at Boston College. Some of the sickened diners have sued Chipotle. Profits plunged 44% in the fourth quarter compared to the year before. The U.S. Justice Department is investigating the company for possible criminal activity.
The outbreak started in the Northwest and spread to a dozen states before Chipotle got it under control. The cause of the outbreak remains unknown.