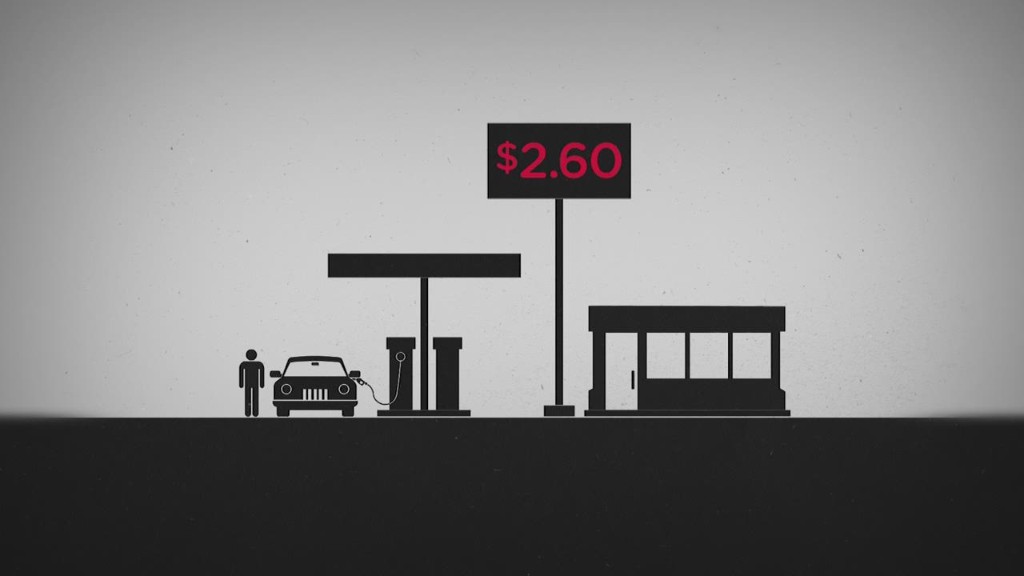 Chesapeake Energy insists it's not plotting a bankruptcy filing.
The natural gas and oil giant was forced to issue a statement on Monday after its stock tanked over 50%.
Chesapeake (CHK) said it "currently has no plans to pursue bankruptcy."
Chesapeake stock rebounded off the lows on the news, but was still off 34% in recent trading. The stock hit several circuit breakers earlier in the day before being halted, so the company could release a statement.
The plunge was fueled by a Debtwire report indicating Chesapeake had recently started working with restructuring attorneys from Kirkland & Ellis to discuss "balance sheet options."
Related: Oil company defaults are spiking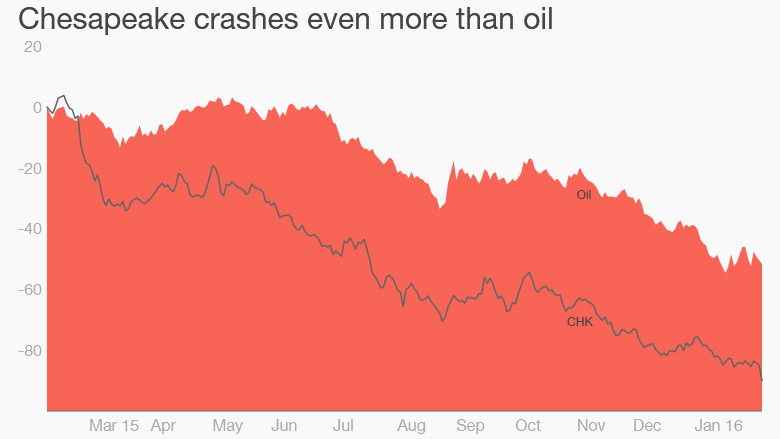 Chesapeake is America's second-largest natural gas company and owns the naming rights to the arena of the NBA's Oklahoma City Thunder.
In many ways, Chesapeake is a proxy for the boom-and-bust shale oil and natural gas industry.
Its stock soared before the 2008 financial crisis after its significant natural gas shale investments in Texas, West Virginia and Pennsylvania took off. Like many other energy companies, when things were going well Chesapeake took on a lot of debt to finance its expansion.
But now that cash flows have been choked off by cheap natural gas and oil prices, Chesapeake is struggling to pay off nearly $11 billion of debt. Late last year, Chesapeake was forced to cut its debt by offering a debt exchange.
Related: Cheap oil threatens energy company dividends
Chesapeake was cofounded in 1989 by Aubrey McClendon, who was ousted as CEO in 2013 after it was revealed he was bankrolling his lavish lifestyle with more than $1 billion in loans backed by a personal stake in the company's wells.
McClendon's ouster was led by billionaire Carl Icahn, who remains a major Chesapeake shareholder. The activist investor owned 11% of Chesapeake's stock as of the most recent reporting period, according to FactSet.
Chesapeake said in its statement that it is "aggressively seeking to maximize value for all shareholders"
and noted that Kirkland & Ellis has served as a counsel since 2010 and continues to advise the company on its balance sheet.
Fears about the future of Chesapeake are also rattling Williams Cos. (WMB), a pipeline and processing company whose stock plummeted 25% on Monday. Williams gets about 20% of its revenue from Chesapeake, according to Fitch Ratings. Fitch recently downgraded Williams due in part to its "significant counterparty exposure" to Chesapeake.