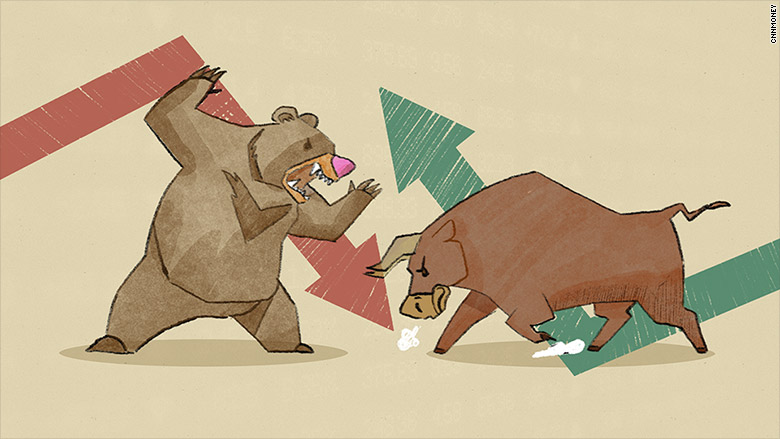 "Is it realistic to expect a 5% to 7% return on stocks in 2016 or should I lower my hopes?" asks CNNMoney reader Harold Hughes of Cotuit, MA.
Short answer: Lower your hopes.
Stocks are off to a brutal start in 2016. Nearly all investors are losing money. The U.S. market has shed about 10%. Tech stocks are getting hammered even more.
Welcome to the era of diminished stock market expectations. Nearly every Wall Street firm has slashed predictions for how stocks will perform in 2016.
Heading into this year, there was a lot of optimism. The U.S. economy looked strong. Hiring was up and the belief was people would go out and buy more stuff and that would drive growth.
As recently as mid-December, the average prediction for stocks in 2016 was a whopping 9% gain.
Now experts say we'll be "lucky" to get 4% to 5%. It hinges on U.S. consumers continuing to spend.
Related: Dow drops over 350 points as oil sinks below $30
China and oil are pulling global stocks down
"I wouldn't rule out 5%, but I think anything more than that is more hope than I'm comfortable with at the moment," says Brad McMillian, chief investment officer at Commonwealth Financial.
McMillian is one of many experts who has cut his forecast. He now predicts the S&P 500 will end the year at 2,050. That's barely higher from where it started.
Basically, the world economy belly flopped at the start of the year. The Chinese tinkered with their currency again, which was interpreted as another warning sign that the second biggest economy in the world is slowing faster than feared.
The pullback in China is spreading rapidly around the world. While the U.S. has been largely unscathed, the reality is no economy is an island anymore.
On top of that, oil fell to a 13-year low and the U.S. dollar keeps surging, making it tricky for American companies doing business abroad.
Related: Why China doesn't know what it's doing
A recession is still a slim possibility
Investors have sold stocks as they bet that companies, even in the U.S., just can't grow a lot more in a world that is going through what Apple CEO Tim Cook recently described as "extreme conditions."
The question now is how bad it will get. Fears of a global -- and even U.S. -- recession are rising, although the probability of that worst case scenario happening is still only about 20%.
"I don't think we'll see a collapse here. The economic conditions don't seem to be in place," says McMillan. He believes the market is pricing in too much doom and gloom.
Related: Why doesn't 4.9% unemployment feel great?
So what should an investor do?
So what should an investor like Harold Hughes do?
"What I would say to an investor now is: Don't focus on this year alone," says Katie Nixon, chief investment officer at Northern Trust Wealth Management.
Over every 15 year period since World War II, the U.S. stock market has made money for investors (often A LOT of money). Sticking in stocks pays off.
Northern Trust Wealth Management is forecasting a 4% to 7% return for stocks over the next five years.
"That may not sound like a lot, but it's coming off a period where we've had above-average returns," notes Nixon.
Related: U.S. economy still healthy, says key Fed official
Investors who feel queasy should talk to their financial adviser and make sure they still have a good long-term strategy for their retirement or other goals. It also makes sense in an environment like this to look for so called "Blue Chip" American stocks -- big, well-known companies that pay dividends.
While stock prices may not go up much this year, many companies are still paying their dividends. That helps to boost returns. Consider this: last year, the S&P 500 index lost 0.7%. BUT it actually gained 1.2% if your dividends were reinvested (which most "buy and hold" investors do).
"To say we're not going to get rich in equities doesn't mean they're not a good place to be," says McMillian.
Have an investing question? Email heather.long@cnn.com or fill out the form here.