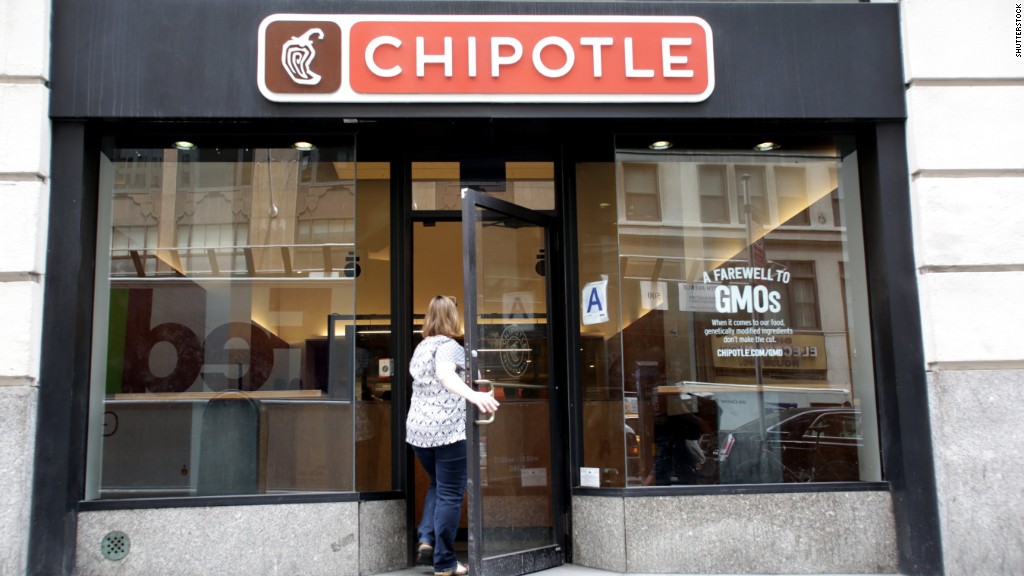 Chipotle is very sorry it closed its restaurants Monday for a food safety meeting. To make up for it, the chain is giving away free burritos.
"If we messed up your lunch plans today, follow the steps and we'll hook you up," the company said on its website. Anyone who wants free food should text the word "raincheck" to 888-222 before 6 pm on Monday.
Chipotle (CMG) didn't say how many burritos it will give away, but advised that quantities are limited and will be distributed on a "first come, first served" basis.
The fast casual chain temporarily closed all of its locations for a four-hour food safety meeting, for all 50,000 of its employees. Chipotle live-tweeted the event to its 730,000 Twitter (TWTR) followers under the hash tag #ChipotleAllTeam.
All of Chipotle workers around the country could monitor the meeting through Periscope and Twitter. The purpose is to prevent a return of the E. coli outbreak that sickened some 500 customers last year.
"Deeply sorry that some people became ill after eating Chipotle," CEO Steve Ells said on Twitter. "Committed to make sure it won't happen again."
The restaurant also tweeted, "Steve thanks the CDC for their efforts and for declaring the E. coli outbreak over last week."
Related video: Here's how Chipotle got 500 people sick
"We've come together today to make sure Chipotle is not just the most delicious place to eat, but also the safest," said co-CEO Monty Moran, according to the tweets. "We worked with experts who helped us create the most effective food safety program possible."
The company announced a Local Grower initiative that would invest $10 million into improving food safety at the small farms that supply its food.
Because of stricter standards, Ells said, "It may be difficult for some of our small suppliers to meet our new safety standards."
The company reiterated some of its previously announced measures, such as high-resolution ingredient testing and blanching vegetables to kill germs.
Related: Moe's chides Chipotle: We're open all day
The Centers for Disease Control and Prevention announced on February 1 that the outbreak that started in July "appears to be over." But the restaurant chain has a lot of work to do to restore customer faith its beloved burritos.
Profits plunged 44% in the fourth quarter compared to the year before. Some of the sickened diners have sued Chipotle. The U.S. Justice Department is investigating the company for possible criminal activity.