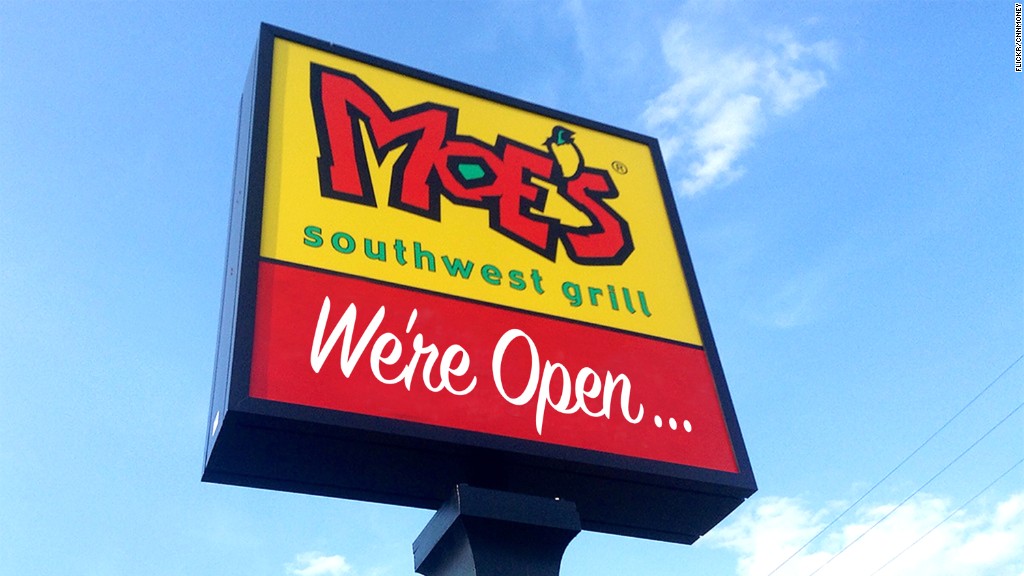 As Chipotle recovers from an E. coli outbreak that left it reeling, Moe's Southwest Grill is hoping to sell more burritos.
Moe's ran a full-page advertisement in USA Today on Monday that jabs at the embattled industry leader. "We're open, especially on February 8th," the ad screams.
The ad copy is a reference to Chipotle's decision to close all its restaurants nationwide for four hours on Monday for a full staff meeting about food safety.
Moe's ad touts its "handcrafted" guacamole and grass-fed beef, reaching out to customers who are increasingly focused on the quality of ingredients.
"We are competitors," Moe's President Bruce Schroder said of Chipotle. "And we didn't want the category to go dark for a day, so why not give Moe's a try?"
Moe's has been pushing a "buy one burrito/get one free" offer for the past two weeks. The move is boosting sales, Schroder said, but the key is whether those customers will keep coming back.
Related: Chipotle's E. coli outbreak 'appears to be over,' CDC says
Moe's is short for musicians, outlaws and entertainers. The privately owned company has about 600 locations, or 70% fewer than Chipotle (CMG). But Moe's has been growing: It opened about 70 new restaurants last year.
The chain's restaurants can't be mistaken for Chipotle's and its sleek stainless look. Moe's locations feature kitschy décor that Schroder calls "kid friendly." At a store in Midtown Manhattan, portraits of people impersonating deceased musicians line the walls -- a nod to the company's playlist, which includes only dead artists.
Schroder said Chipotle's food safety crisis, which triggered an almost 40% decline in the value of its stock, hasn't changed anything for Moe's. Except, maybe, his expectations: "We want to be the undisputed leader in the category, and I think we have a really good chance."