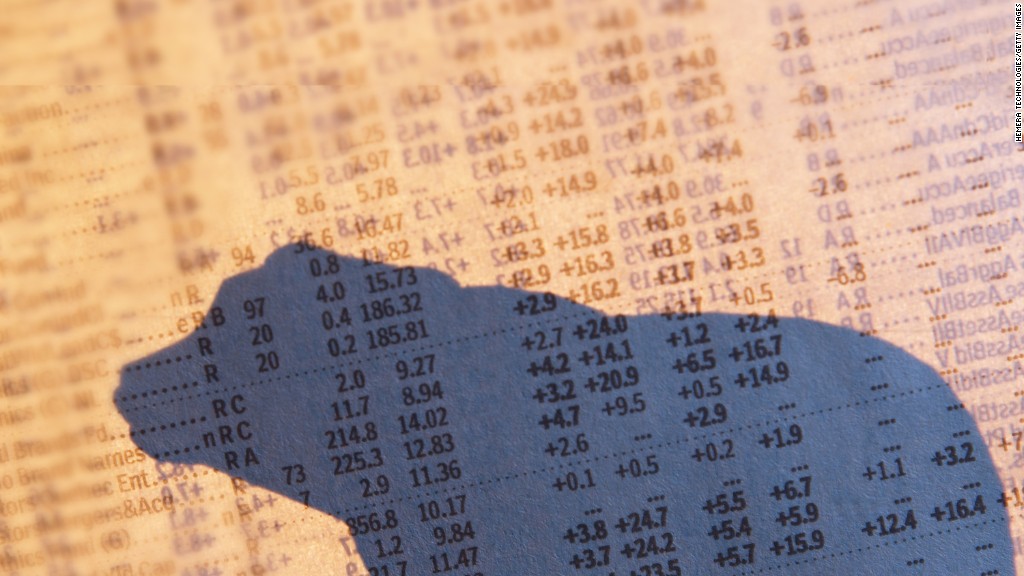 Former high-flying tech stocks Amazon, Netflix and Tesla are crashing back to earth.
All three popular stocks are down at least 23% so far this year, and a host of other tech stocks have fared far worse.
Their downfall is part of the broader plunge for the tech-heavy Nasdaq. The index is down 14% this year, almost twice as much as the Dow.
"It's a risk-off environment -- when the focus is on hopes and dreams, it's very easy to invest in tech companies that don't have current earnings. But when the environment changes, they get hurt," said David Kelly, chief global strategist at JPMorgan Funds.
It's gotten so bad that the Nasdaq bull market is currently on life support and may not live to see its seventh birthday this March. The index is down 18% from its all-time intraday high that was set in July. If it gets below 4,185.55, it'll be in a "bear market," which signals a 20% decline from previous highs.
The Nasdaq got dangerously close to that level on Monday and is trading around 4,278 on Tuesday as worries about oil prices, European banks and global growth continue to drive fear on Wall Street.
Related: Gold is 2016's most beloved asset
Fear is in. Risk is out
The Nasdaq dive is a reflection of the deep fear coursing through Wall Street these days. Investors are running away from risky things (think: GoPro or biotech) in favor of the perceived safety of cash, gold and government debt.
It's normal for the Nasdaq to fall more than the Dow during times of fear. The Dow Jones Industrial Average is made up of 30 well-established companies like General Electric (GE)that have a long history of steady profits. But the Nasdaq features more growth-oriented tech stocks.
These tech stocks rally more when times are good because they have higher potential. That's why the Nasdaq is up 238% since March 2009, compared with the Dow's gain of 148% over that span.
Of course, the opposite is also true during downturns, as evidenced by the Nasdaq's atrocious 2016 performance. Just look at the 40% plunge for GoPro (GPRO) this year or how Twitter (TWTR) has lost one-third of its value and Alibaba (BABA) is down by 25%.
Even LinkedIn (LNKD), which skyrocketed in 2012 and 2013, is getting punished. The social network experienced a 44% meltdown on February 5 after posting a big earnings miss.
"When you're in a bull market the Nasdaq is going to outperform to the upside. But once it starts coming under attack you're going to see it go down a lot more than the rest of the market," said Art Hogan, chief market strategist at Wunderlich Securities.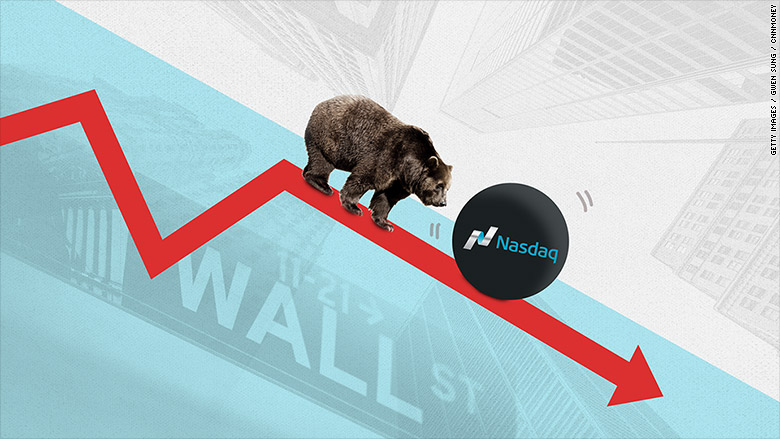 Related: FANG stocks are getting crushed
Apple and Tesla already in bear markets
Many tech have already succumbed to a bear market, including Amazon (AMZN), Apple (AAPL), Cisco (CSCO), Netflix (NFLX) and Tesla (TSLA).
Biotech stocks are also getting crushed, with the closely-watched iShares Nasdaq Biotechnology ETF (IBB) down 26% so far in 2016. Some individual biotech stocks like Gilead Sciences (GILD) and Regeneron (REGN) are down a lot too.
Investors closely watch when major indexes fall into bear markets because it inflicts a certain amount of psychological and technical damage (think: charts). It's a stark reminder of how deep the markets have fallen and how much ground it has to make for investments to be made whole again.
"The deeper you fall, the longer it'll take you to get back to even," said Sam Stovall, U.S. equity strategist at S&P Global Market Intelligence.
For instance, Stovall said it takes the S&P 500 an average of 14 months to get claw back its losses after it sinks into a bear market. By comparison, the index rebounds from 10% declines (known as "corrections) in just four months.
Related: Can U.S. stocks still return 5% in 2016?
Is the Nasdaq plunge overdone?
So does the Nasdaq deserve to be on the verge of a bear market? Or are investors unfairly punishing these stocks?
The answer depends on the direction of the U.S. economy, which decelerated significantly last quarter. If the U.S. sinks into recession, tech stocks could get hammered a lot more.
But economists polled by CNNMoney don't believe a U.S. recession is imminent. If they're right, the stock market, especially the Nasdaq, could rebound meaningfully.
"It does seem like it's really overblown," said Kristina Hooper, U.S. investment strategist at Allianz Global Investors.
She pointed to a number of positives in the tech sector, including relatively attractive valuations and strong profit trajectory. For instance, an impressive 81% of tech companies have beaten earnings estimates this season, according to FactSet.
"Technology looks very attractive for investors who have long enough time horizons," said Hooper.